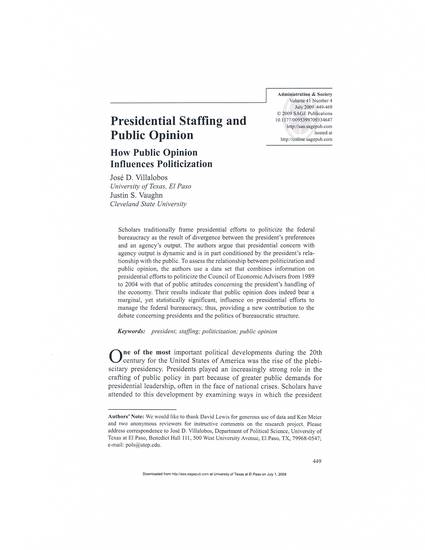 Article
Presidential Staffing and Public Opinion: How Public Opinion Influences Politicization
Administration & Society (2009)
Abstract
Scholars traditionally frame presidential efforts to politicize the federal bureaucracy as the result of divergence between the president's preferences and an agency's output. The authors argue that presidential concern with agency output is dynamic and is in part conditioned by the president's relationship with the public. To assess the relationship between politicization and public opinion, the authors use a data set that combines information on presidential efforts to politicize the Council of Economic Advisers from 1989 to 2004 with that of public attitudes concerning the president's handling of the economy. Their results indicate that public opinion does indeed bear a marginal, yet statistically significant, influence on presidential efforts to manage the federal bureaucracy, thus, providing a new contribution to the debate concerning presidents and the politics of bureaucratic structure.
Keywords
president,
staffing,
politicization,
public opinion
Citation Information
José D. Villalobos and Justin S. Vaughn. "Presidential Staffing and Public Opinion: How Public Opinion Influences Politicization"
Administration & Society
Vol. 41 Iss. 4 (2009)
Available at: http://works.bepress.com/justin_vaughn/1/