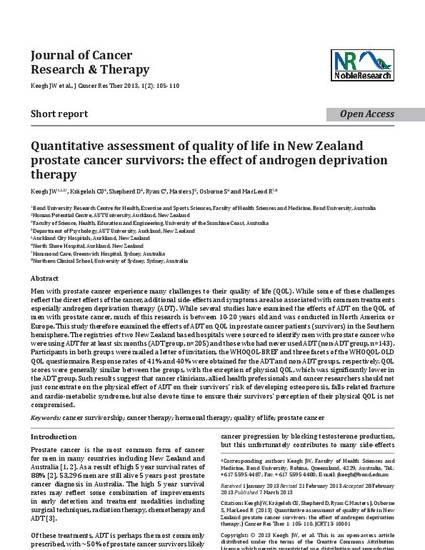 Article
Quantitative assessment of quality of life in New Zealand prostate cancer survivors: the effect of androgen deprivation therapy
Journal of Cancer Research and Therapy
Date of this Version
2-28-2013
Document Type
Journal Article
Abstract
Men with prostate cancer experience many challenges to their quality of life (QOL). While some of these challenges reflect the direct effects of the cancer, additional side-effects and symptoms are also associated with common treatments especially androgen deprivation therapy (ADT). While several studies have examined the effects of ADT on the QOL of men with prostate cancer, much of this research is between 10-20 years old and was conducted in North America or Europe. This study therefore examined the effects of ADT on QOL in prostate cancer patients (survivors) in the Southern hemisphere. The registries of two New Zealand based hospitals were sourced to identify men with prostate cancer who were using ADT for at least six months (ADT group, n=205) and those who had never used ADT (non-ADT group, n=143). Participants in both groups were mailed a letter of invitation, the WHOQOL-BREF and three facets of the WHOQOL-OLD QOL questionnaire. Response rates of 41% and 40% were obtained for the ADT and non-ADT groups, respectively. QOL scores were generally similar between the groups, with the exception of physical QOL, which was significantly lower in the ADT group. Such results suggest that cancer clinicians, allied health professionals and cancer researchers should not just concentrate on the physical effect of ADT on their survivors' risk of developing osteoporosis, falls-related fracture and cardio-metabolic syndrome, but also devote time to ensure their survivors' perception of their physical QOL is not compromised.
Citation Information
Justin Keogh, C U Krägeloh, D Shepherd, C Ryan, et al.. "Quantitative assessment of quality of life in New Zealand prostate cancer survivors: the effect of androgen deprivation therapy"
Journal of Cancer Research and Therapy
Vol. 1 Iss. 2 (2013) p. 105 - 110 ISSN: 2052-4994
Available at: http://works.bepress.com/justin_keogh/29/