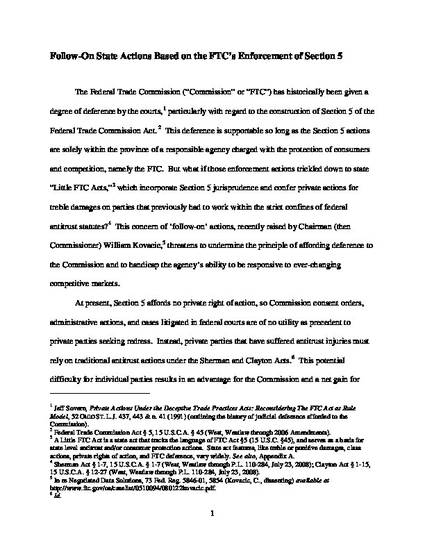 Unpublished Paper
Follow-On State Actions Based on the FTC's Enforcement of Section 5
ExpressO (2008)
Abstract
The Federal Trade Commission has historically been given a degree of deference by the courts, particularly with regard to its construction of section 5 of the Federal Trade Commission Act. This deference is supported so long as the section 5 actions are solely within the province of a responsible Commission charged with the protection of consumers and competition. But what if those enforcement actions trickled down to state Little FTC Acts, which incorporate section 5 jurisprudence and confer private actions for treble damages on parties that previously had to work within the strict confines of the antitrust statutes? That concern, raised by Chairman William Kovacic, threatens to undermine the principal of affording deference to the Commission and to handicap the agency's ability to be responsive to ever changing competitive markets. Far from disposing of the agency's utility, however, the threat of section 5 incorporation into state Little FTC Acts is overstated.
Publication Date
September 26, 2008
Citation Information
Justin Hakala. "Follow-On State Actions Based on the FTC's Enforcement of Section 5"
ExpressO
(2008)
Available at: http://works.bepress.com/justin_hakala/1/