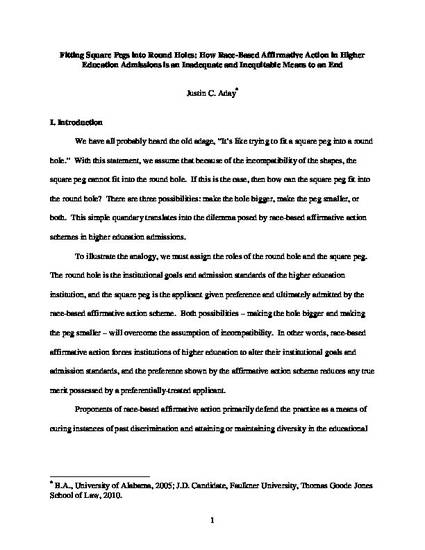 Unpublished Paper
Fitting Square Pegs Into Round Holes: How Race-Based Affirmative Action in Higher Education Admissions is an Inadequate and Inequitable Means to an End
ExpressO (2010)
Abstract
Race-based affirmative action in higher educaction admissions presents problems for all persons involved in the admissions process - insitution administrators who develop admissions policies, students who apply for admission to the insitution, and especially the never-envied admissions director (or admissions committee). This paper presents a critique of race-based affirmative action and jurisprudential theories that support the practice, from the perspective of a law school admissions director. After admitting 98 of 100 students into an entering law school class, the admissions director must chose the remaining two students for admission from only a pool of four applicants - two privileged minorities, a middle-class white applicant, and a disadvantaged white applicant. Each applicant has similar admissions criteria, and the admissions director is required to employ her institution's affirmative action scheme. Even though the admissions director justifies her use of the affirmative action scheme through Supreme Court precedence and Rawlsian and Critical Race Theory scholarship, she is determined to find a better alternative. The paper further critiques two possible alternatives - using merit as the determinative factor in higher education admissions and using civil disobedience to offset the negative effects of affirmative action. In addition, this paper concludes by presenting a more adequeate and equitable means to achieving diversity in higher education admissions - modifying affirmative action from a race-based scheme to a disadvantage-based scheme and coupling it with early intervention mechanisms for those who face disadvantages long before they are applying for admission to an institution of higher education.
Keywords
affirmative action,
grutter,
gratz,
rawls,
critical race theory,
civil disobedience
Publication Date
January 27, 2010
Citation Information
Justin C Aday. "Fitting Square Pegs Into Round Holes: How Race-Based Affirmative Action in Higher Education Admissions is an Inadequate and Inequitable Means to an End"
ExpressO
(2010)
Available at: http://works.bepress.com/justin_aday/1/