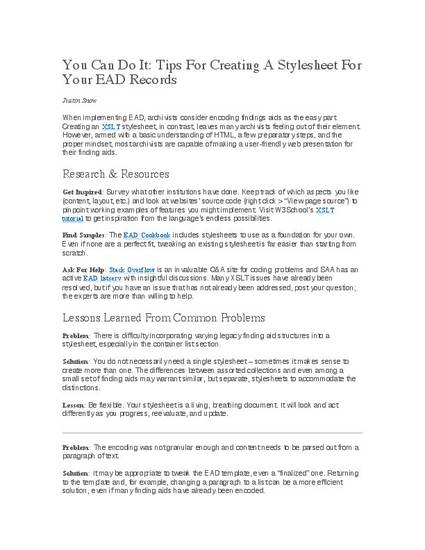 Article
You Can Do It: Tips For Creating A Stylesheet For Your EAD Records
Practical Technology For Archives (2013)
Abstract
When implementing EAD, archivists consider encoding findings aids as the easy part. Creating an XSLT stylesheet, in contrast, leaves many archivists feeling out of their element. However, armed with a basic understanding of HTML, a few preparatory steps, and the proper mindset, most archivists are capable of making a user-friendly web presentation for their finding aids.
Citation Information
Justin Snow. "You Can Do It: Tips For Creating A Stylesheet For Your EAD Records"
Practical Technology For Archives
Iss. 1 (2013)
Available at: http://works.bepress.com/justin-snow/2/
Creative Commons license
This work is licensed under a Creative Commons CC_BY-SA International License.