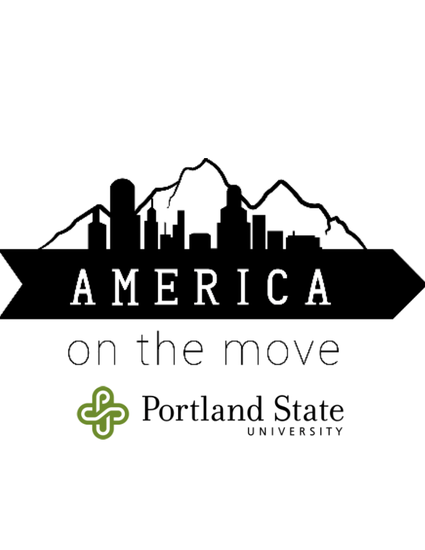 Article
Is Portland Really the Place Where Young People Go To Retire? Migration Patterns of Portland's Young and College-Educated, 1980-2010
Metropolitan Knowledge Network
Publication Date
9-1-2012
Subjects
Emigration and immigration -- Economic aspects,
Economic conditions -- Oregon -- Portland Metropolitan Area,
Demographic surveys -- Oregon -- Portland Metropolitan Area,
Portland (Or.) -- Social life and customs
Abstract
For many metro areas, including Portland, being economically competitive in today's knowledge and information economy depends on attracting and retaining young, college-­‐educated (YCE) migrants. On this indicator, Portland has been most successful: since 1980, the Portland metropolitan region has attracted college-­‐educated individuals under the age of 40 at some of the country's highest net migration rates in good economic times and bad. Though not unique to Portland, the resiliency of Portland's migration streams, even in periods of economic uncertainty, calls attention to an increasingly selective group of YCE migrants who appear to place greater relative value on non-­‐economic factors—from political milieu to access to quality public transportation—compared to employment opportunities. This trend directly challenges a long-­‐established cornerstone of traditional migration theory suggesting that the decision to move is predicated on benefits exceeding costs, and linked to the importance of jobs and economic opportunity as attractive forces for working-­‐age households. Reading between the lines of recent media accounts, and in particular the television show Portlandia, the shift from economic to non-­‐economic factors has been portrayed in a most interesting way: because young migrants to Portland place relatively low value on work and traditional careers, their desire to exchange employment opportunities for quality of life (amenity) factors indeed makes Portland the city "where young people go to retire." The question is: in the short and long-­‐term, how sustainable is Portland's trend of attracting and retaining YCE migrants if labor market outcomes continue to remain worse compared to other metro areas? What are the facts? In this paper we draw upon U.S. Census Bureau data from the 2000 Census and more recent American Community Surveys from 2005-­‐2007 and 2008-­‐2010, to compare migration patterns in Portland to the other 50 largest U.S. metros.
Persistent Identifier
http://archives.pdx.edu/ds/psu/10501
Citation Information
Jason R. Jurjevich and Greg Schrock. "Is Portland Really the Place Where Young People Go To Retire? Migration Patterns of Portland's Young and College-Educated, 1980-2010"
Metropolitan Knowledge Network
(2012)
Available at: http://works.bepress.com/jurjevich/8/