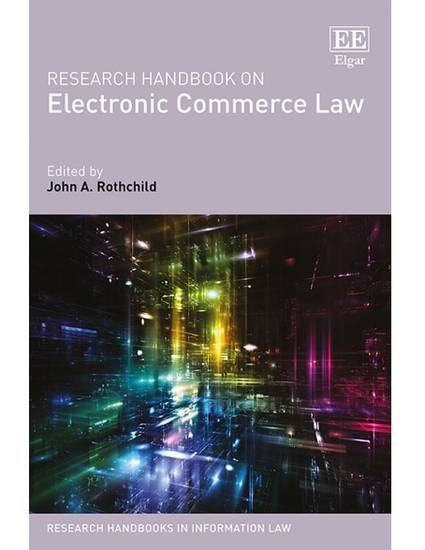 Contribution to Book
Electronic Issues in Secured Financing
Research Handbook on Electronic Commerce Law (2016)
Abstract
The proliferation of electronic communications technologies has affected business transactions in myriad ways. Transacting parties enter into agreements electronically, transfer payments electronically, and create, acquire, and sell electronic assets that did not exist decades ago. Modern communications technologies also enable parties to gain control over tangible assets remotely. Many of these transactions are governed by the Uniform Commercial Code ("UCC"), a statute first written in an era in which assets were tangible and contracts were written on paper and signed in ink. Recognizing the migration of electronic transactions to the electronic environment, the two sponsors of the UCC – the American Law Institute and the Uniform Law Commission – have modernized several UCC articles, including Article 9, which governs secured transactions. The two sets of amendments promulgated in 1999 and 2010 recognize both the electronic creation of a security interest and the development of electronic assets. Despite the modernization of Article 9, traps for the unwary remain.
Electronic transactions raise potential issues under Article 9 of the UCC at each critical point in a secured transaction. In order for a secured party to foreclose on an asset and realize its value, the secured party must correctly describe the asset in its security agreement with the debtor. In order to have priority in the asset, and to be protected as a secured creditor in the debtor's bankruptcy, the secured party must have perfected its security interest, usually by filing a financing statement that provides public notice of the security interest. The comprehensive revisions to Article 9 that were promulgated in 1999 incorporate and facilitate the use of electronic communications in secured transactions by enabling the use of such communications in both creating and perfecting security interests. Open questions remain, however, when the collateral itself is electronic and when creditors use electronic means to enforce their security interests. This chapter, part of the Research Handbook on Electronic Commerce Law, explains some of these potential issues.
Keywords
electronic commerce,
secured transactions,
Bitcoin,
domain names,
intangible property,
on-time devices,
remote repossession
Editor
Edited by John A. Rothchild
Publisher
Edward Elgar Publishing
Citation Information
Juliet M Moringiello. "Electronic Issues in Secured Financing"
Research Handbook on Electronic Commerce Law
(2016)
Available at: http://works.bepress.com/juliet_moringiello/50/