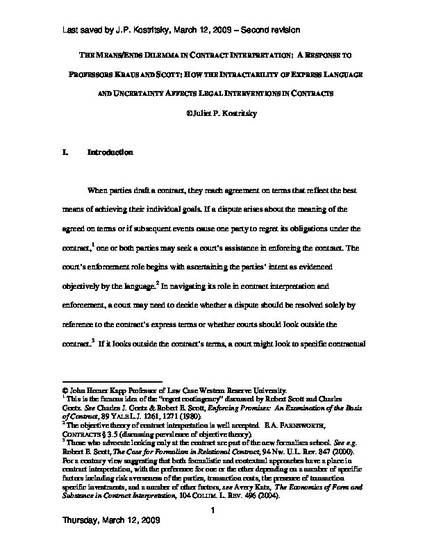 Unpublished Paper
THE MEANS/ENDS DILEMMA IN CONTRACT INTERPRETATION: A RESPONSE TO PROFESSORS KRAUS AND SCOTT: HOW THE INTRACTABILITY OF EXPRESS LANGUAGE AND UNCERTAINTY AFFECTS LEGAL INTERVENTIONS IN CONTRACTS
ExpressO (2009)
Abstract
In their recent article on Contract Design and Intent, Professors Jody Kraus and Robert Scott offer a new justification for such a literal enforcement of the parties' chosen terms and for ignoring contractual objectives. Their argument depends on a theory of how parties bargain and trade off front end and back end costs. Kraus and Scott posit that if parties have invested enough transaction costs to result in specific terms, and failed to delegate decision-making to a court through open-ended terms, they have a deliberately chosen to exclude courts. In such cases courts should rigorously adhere to the explicit contractual means chosen by the parties and spurn any judicial strategy that overrides the parties' chosen means in order to secure the parties' contractual objectives. This Article disputes this account of contract formation in ways that call into question the conclusion that exclusive emphasis should be placed on the parties' chosen means unless the parties have expressly signaled a desire for judicial intervention. It is not clear that a contract with specific terms and no vague term or open-ended term represents a deliberate choice to exclude all judicial intervention. The use of a term such as the term wife should not prevent a court from intervening by looking beyond the express terms even when the parties have not used an open-ended term. An unwavering rule that focuses exclusively on the means chosen may generate negative welfare effects. Moreover, the certainty promised by such a strategy might prove mythical. This Article explores various examples of law-supplied default rules in Contracts which reflect judicial departures from, or additions to, the parties' chosen means (assuming that chosen means are limited to mean the explicit terms of the contract). These are counter examples in which courts seem to ignore the Kraus and Scott injunction to courts to refuse to intervene in contracts unless explicitly requested to do so through a broad delegation. The Article concludes by suggesting its own theory of contract interpretation.
Keywords
contract interpretation,
hold up,
opportunism,
economics
Publication Date
March 24, 2009
Citation Information
Juliet P Kostritsky. "THE MEANS/ENDS DILEMMA IN CONTRACT INTERPRETATION: A RESPONSE TO PROFESSORS KRAUS AND SCOTT: HOW THE INTRACTABILITY OF EXPRESS LANGUAGE AND UNCERTAINTY AFFECTS LEGAL INTERVENTIONS IN CONTRACTS"
ExpressO
(2009)
Available at: http://works.bepress.com/juliet_kostritsky/12/