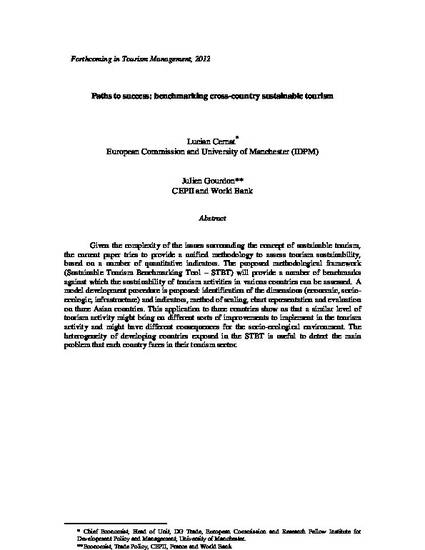 Article
Paths to success: Benchmarking cross-country sustainable tourism
Tourism Management (2012)
Abstract
Given the complexity of the issues surrounding the concept of sustainable tourism, the current paper tries to provide a unified methodology to assess tourism sustainability, based on a number of quantitative indicators. The proposed methodological framework (Sustainable Tourism Benchmarking Tool – STBT) will provide a number of benchmarks against which the sustainability of tourism activities in various countries can be assessed. A model development procedure is proposed: identification of the dimensions (economic, socio-ecologic, infrastructure) and indicators, method of scaling, chart representation and evaluation on three Asian countries. This application to three countries shows us that a similar level of tourism activity might bring on different sorts of improvements to implement in the tourism activity and might have different consequences for the socio-ecological environment. The heterogeneity of developing countries exposed in the STBT is useful to detect the main problem that each country faces in their tourism sector.
Publication Date
Fall October, 2012
Citation Information
Lucian Cernat and Julien Gourdon. "Paths to success: Benchmarking cross-country sustainable tourism"
Tourism Management
Vol. 33 Iss. 5 (2012)
Available at: http://works.bepress.com/julien_gourdon1/6/