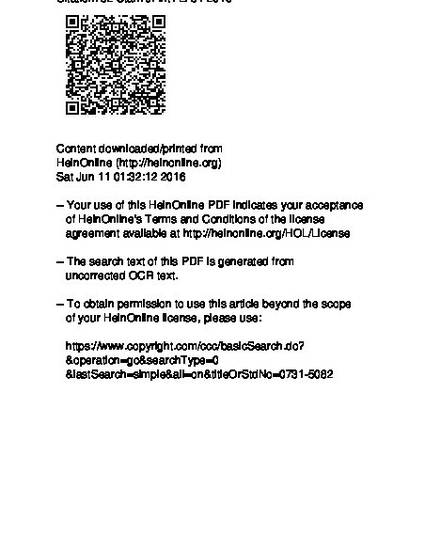 Article
Shareholder Protection Reloaded-- Redesigning the Matrix of Shareholder Claims for Reflective Loss
Stanford Journal of International Law (2016)
Abstract
The role of "reflective losses" is of considerable importance both to national company law and to international investment law. However, as a matter of practice and legal theory, domestic courts and international arbitration tribunals come to contrary conclusions as to whether shareholders can recover the loss of share values caused by wrongs done to the company. international arbitration tribunals tend to allow shareholders to recover loss of share value caused by states' breaches of investment treaties. Domestic courts generally bar such recovery under the "no recovery of reflective loss" principle. This Article provides an exhaustive account of investment awards that have dealt with the issue of "reflective losses" since 1998. It argues that allowing recovery for reflective loss is a sound legal principle from a practical, legal, and policy perspective and a key feature of international investment case law and should therefore be promoted. The tribunals' approach is not necessarily worse than the approach adopted by domestic courts. The domestic courts' approach is based on policy considerations like prevention of double recovery, sheltering wrongdoers from multiple claims by shareholders, respecting the plaintiff company's business decisions, etc. However, tribunals are not obliged to adopt all these policies since policies reflect how different courts prioritize various interests. The tribunals can have different priorities and policy considerations because, by their nature, investment treaties are contracts through which states promise to favor foreign investment in exchange for more foreign investment. The arbitration tribunal is there to uphold party autonomy. This should become the premise of reflection and of solving potential practical problems caused by allowing such recovery.
Keywords
reflective loss,
international investment treaties,
investment arbitration,
corporate law
Publication Date
Winter August 1, 2016
Citation Information
Julien Chaisse. "Shareholder Protection Reloaded-- Redesigning the Matrix of Shareholder Claims for Reflective Loss"
Stanford Journal of International Law
Vol. 52 Iss. 1 (2016) p. 51 - 94 ISSN: 0731-5082
Available at: http://works.bepress.com/julien_chaisse/72/