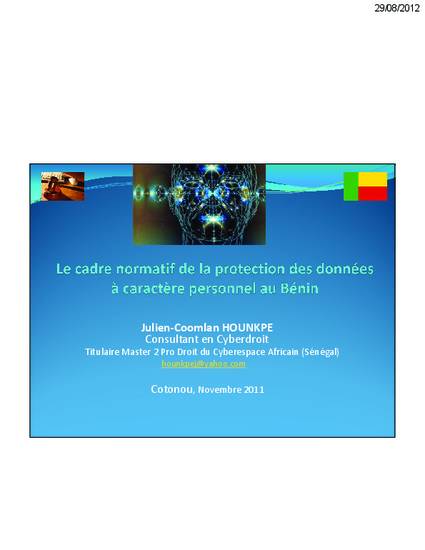 Presentation
Legal framework for the protection of personnal data in Republic of Benin.
(2011)
Abstract
The National Assembly adopted at its meeting of April 27, 2009 Law No. 2009-09 on the Protection of Personal Data in the Republic of Benin. Following the decision of compliance with the Constitution issued by the Constitutional Court (DCC 09-064 of 19 May 2009), the President of the Republic promulgated the Law on May 22, 2009.
The main objective of this legislation is to define the conditions for processing personal data and protection of:
- The individual vis-à-vis the Government by requiring the administration to adopt a regular treatment of personal data; - The consumer vis-à-vis professional without hindering the development of economic activities using new technologies;
- The employee against the employer's actions in order to avoid any interference with individual liberties including privacy.
The law also provides for the setting-up of a Commission for protection of personal data and control of data treatments.
Publication Date
November, 2011
Citation Information
Julien Coomlan Hounkpe. "Legal framework for the protection of personnal data in Republic of Benin." (2011)
Available at: http://works.bepress.com/julien-coomlan-hounkpe/18/