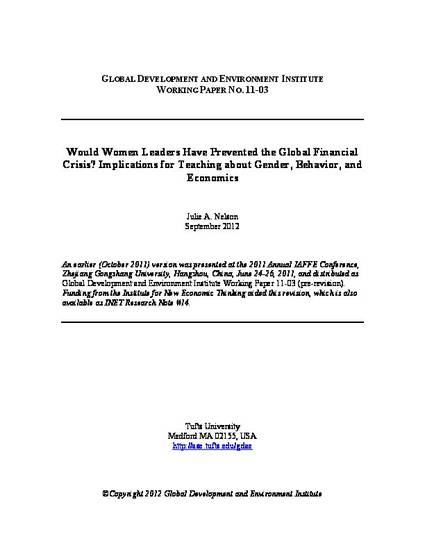 Article
Would women leaders have prevented the global financial crisis? Teaching critical thinking by questioning a question
International Journal of Pluralism and Economics Education (IJPEE) (2013)
Abstract
Would having more women in leadership have prevented the financial crisis? This question, raised in the popular media, can make effective fodder for teaching critical thinking within courses such as gender and economics, money and financial institutions, pluralist economics, or behavioural economics. While the question, as posed, demands an answer of 'Yes - sex differences in traits are important' or 'No - gender is irrelevant', students can be encouraged to question the question itself. The first part of this essay briefly reviews literature on the sameness-versus-difference debate, noting that the belief in exaggerated behavioural differences between men and women is not, in fact, empirically supported. But neither is gender irrelevant. The second part of this essay examines the important role of gender biases in the social construction of markets, and especially financial markets. Specific examples and tools that can be used when teaching about difference, similarity, and markets are discussed throughout.
Publication Date
June, 2013
Citation Information
Julie A. Nelson. "Would women leaders have prevented the global financial crisis? Teaching critical thinking by questioning a question"
International Journal of Pluralism and Economics Education (IJPEE)
Vol. 4 Iss. 2 (2013)
Available at: http://works.bepress.com/julie_nelson1/15/