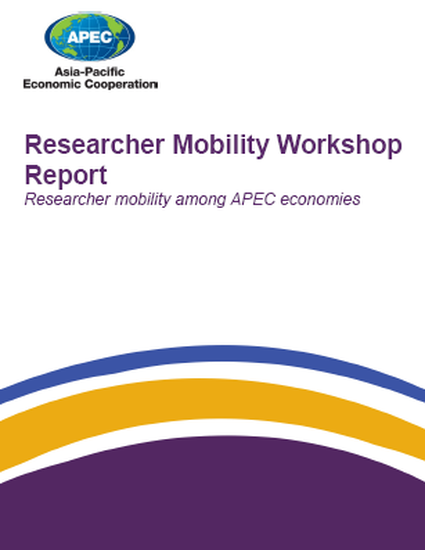 Book
Researcher Mobility Workshop Report: Researcher mobility among APEC economies
Higher Education Research
Publication Date
12-1-2015
Subjects
Researchers, Mobility, International cooperation, Global approach, Internationalisation, International programs, International communication, International education, Career development, Academic staff, University business relationship, Economic development, Regional cooperation, Computer mediated communication, Digital technology
Abstract
There is growing acknowledgement around the world that contemporary research is increasingly – and needs to be – international. In a globalised world common problems can only be solved through the sharing of expertise and pooling of resources. At the same time, research developments are critical in stimulating economic growth in knowledge economies. Ensuring that researchers can access best practice through international research collaboration is essential in facilitating innovation. Policies and structures can go a long way to supporting increased international research collaboration. Online communication technologies have become a vital part of researcher mobility, enabling researchers to unite in conducting collaborative research across the world. It is inevitable that policy makers may regard communication developments as taking the place of physical researcher mobility and hence reducing the cost involved. Research indicates, however, that face-to-face interaction remains vital in successful research collaborations, particularly at the early stage of projects and when multi-disciplinary approaches are required1. This is due to the role of face-to-face interaction in creating trust between researchers. Thus, international research collaborations are fundamentally premised on researcher mobility and, hence, researcher mobility lies at the core of efforts to enhance the quality, impact and capacity of research to inform innovation in all APEC economies. This report has been written for the APEC Researcher Mobility Workshop, held in Jakarta in December 2015. Chapters 1 to 7 were prepared to stimulate consideration of the issues surrounding researcher mobility. They provide an overview of pertinent literature, case studies, data sets and policy of relevance to the topics that were discussed at the workshop. Chapter 8 provides a report on discussions at the workshop and identifies recommendations made by workshop participants.
Place of Publication
Singapore
Publisher
Asia-Pacific Economic Cooperation (APEC)
Geolocate
(34.047863, 100.61965529999998)
100.61965529999998
34.047863
Citation Information
Richardson, Sarah; McMillan, Julie; Yi, Ren. (2015) Researcher Mobility Workshop Report: Researcher mobility among APEC economies. Singapore: Asia-Pacific Economic Cooperation Secretariat.