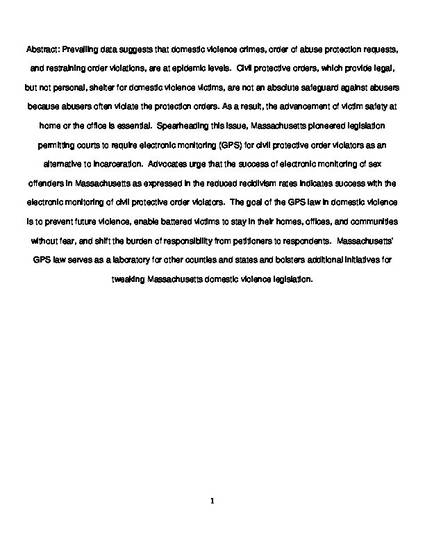 Unpublished Paper
Permission to Protect: Massachusetts Pioneering Law Requiring Electronic Monitoring for Civil Protective Order Violators Advances Safety for Domestic Violence Victims
ExpressO (2008)
Abstract
Prevailing data suggests that domestic violence crimes, order of abuse protection requests, and restraining order violations, are at epidemic levels. Civil protective orders, which provide legal, but not personal, shelter for domestic violence victims, are not an absolute safeguard against abusers because abusers often violate the protection orders. As a result, the advancement of victim safety at home or the office is essential. Spearheading this issue, Massachusetts pioneered legislation permitting courts to require electronic monitoring (GPS) for civil protective order violators as an alternative to incarceration. Advocates urge that the success of electronic monitoring of sex offenders in Massachusetts as expressed in the reduced recidivism rates indicates success with the electronic monitoring of civil protective order violators. The goal of the GPS law in domestic violence is to prevent future violence, enable battered victims to stay in their homes, offices, and communities without fear, and shift the burden of responsibility from petitioners to respondents. Massachusetts' GPS law serves as a laboratory for other counties and states and bolsters additional initiatives for tweaking Massachusetts domestic violence legislation.
Publication Date
January 30, 2008
Citation Information
Julie M Hofmeister. "Permission to Protect: Massachusetts Pioneering Law Requiring Electronic Monitoring for Civil Protective Order Violators Advances Safety for Domestic Violence Victims"
ExpressO
(2008)
Available at: http://works.bepress.com/julie_hofmeister/1/