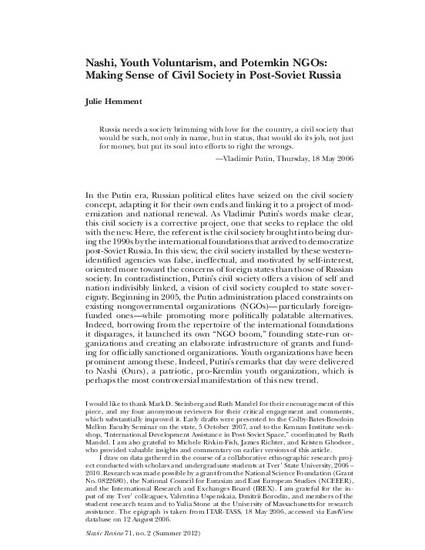 Article
Nashi, Youth Voluntarism and Potemkin NGOs: Making sense of civil society in post-Soviet Russia
Slavic Review (2012)
Abstract
This article tracks the aftermath of international development aid in post-Soviet Russia socialist space by interrogating Putin-era civil society projects. State-run organizations such as the pro-Kremlin youth organization Nashi (Ours) are commonly read as evidence of anti-democratic backlash and confirmation of Russia's resurgent authoritarianism. Contributing to recent scholarship in the anthropology of postsocialism, this article seeks to account for Nashi by locating it in the context of fifteen years of international democracy promotion, global processes of neoliberal governance and the disenchantments they gave rise to. Drawing on a collaborative ethnographic research project with scholars and students in the provincial city Tver', I show how Nashi is a curious hybrid. At the same time as it advances a trenchant critique of nineties era interventions and the models and paradigms that guided democracy assistance, it draws on them too. These resources are re-spun to articulate a robust national-interest alternative that is persuasive to many young people. Finally, I show how this political technology project is not static, but negotiated by its participants as they pursue their own individualized agendas.
Keywords
Russia,
Civil society,
Youth,
Nationalism,
Democracy-promotion
Publication Date
Summer 2012
Citation Information
Julie D Hemment. "Nashi, Youth Voluntarism and Potemkin NGOs: Making sense of civil society in post-Soviet Russia"
Slavic Review
Vol. 71 Iss. 2 (2012)
Available at: http://works.bepress.com/julie_hemment/6/