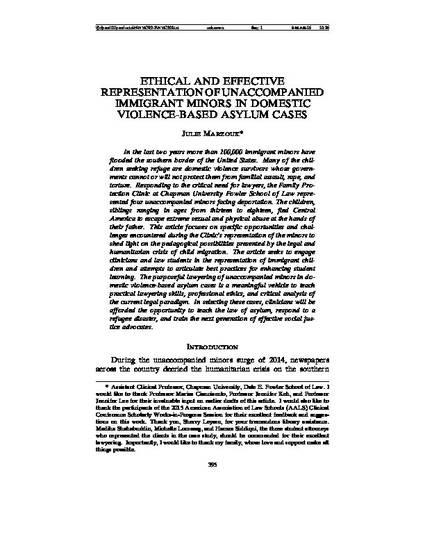 Article
Ethical and Effective Representation of Unaccompanied Immigrant Minors in Domestic Violence-Based Asylum Cases
Clinical Law Review (2016)
Abstract
In the last two years more than 100,000 immigrant minors have flooded the southern border of the United States. Many of the children seeking refuge are domestic violence survivors whose governments cannot or will not protect them from familial assault, rape, and torture. Responding to the critical need for lawyers, the Family Protection Clinic at Chapman University Fowler School of Law represented four unaccompanied minors facing deportation. The children, siblings ranging in ages from thirteen to eighteen, fled Central America to escape extreme sexual and physical abuse at the hands of their father. This article focuses on specific opportunities and challenges encountered during the Clinic's representation of the minors to shed light on the pedagogical possibilities presented by the legal and humanitarian crisis of child migration. The article seeks to engage clinicians and law students in the representation of immigrant children and attempts to articulate best practices for enhancing student learning. The purposeful lawyering of unaccompanied minors in domestic violence-based asylum cases is a meaningful vehicle to teach practical lawyering skills, professional ethics, and critical analysis of the current legal paradigm. In selecting these cases, clinicians will be afforded the opportunity to teach the law of asylum, respond to a refugee disaster, and train the next generation of effective social justice advocates.
Keywords
Immigration,
refugee,
unaccompanied minors,
human rights,
children's rights,
women's rights,
domestic violence,
gender,
clinical pedagogy,
law school clinic,
legal ethics
Publication Date
Spring 2016
Citation Information
Julie Marzouk, Ethical and Effective Representation of Unaccompanied Immigrant Minors in Domestic Violence-Based Asylum Cases, 22 CLINICAL L. REV. 395 (2016).