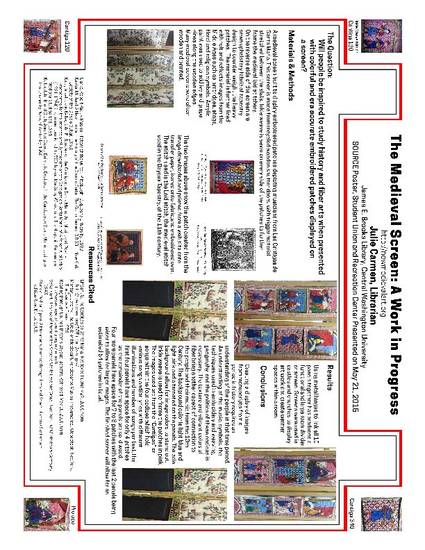 Presentation
The Medieval Screen: A Work in Progress
Central Washington University, Symposium Of University Research and Creative Expression (SOURCE) (2015)
Abstract
The purpose is to design a medieval screen to answer the question: "Will people be inspired to study history and fiber art when presented with colorful embroidered patches displayed on a screen?" The screen project is a work in progress I am creating to display images from a thirteenth century manuscript in a different art medium to induce inspiration and curiosity about this period of time. The poster will describe the work in progress, the different materials used to create a medieval screen, and how the screen has developed over fifteen years. It will discuss the importance of the codices, represented musical instruments, and weaving and embroidery stitch used in that time. It will also discuss the significance of these rare books to the humanities and the educational and esthetic purposes for these embroidered patches. The images are from painted pictures from specific manuscripts, and are interesting to many just as they are. However, displaying these images in bright new colors with the texture of fiber offers a new experience to viewers. In addition, the social implication of these images is powerful as it depicts three different religious cultures, Christian, Judaism, and Muslim, in the courts of Portugal playing music together.
Keywords
Medieval Art,
Fiber Art,
Medieval Screen,
Laidwork
Publication Date
Spring May 21, 2015
Citation Information
Julie Carmen. "The Medieval Screen: A Work in Progress"
Central Washington University, Symposium Of University Research and Creative Expression (SOURCE)
(2015)
Available at: http://works.bepress.com/julie-carmen/7/
Creative Commons License
This work is licensed under a Creative Commons CC_BY-SA International License.