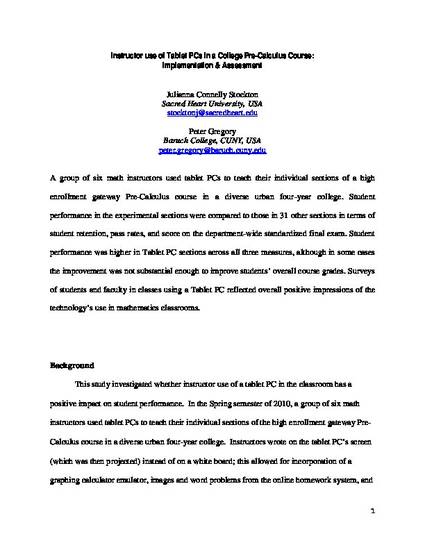 Article
Instructor Use of Tablet PCs in a College Pre-Calculus Course: Implementation & Assessment
Mathematics Faculty Publications
Publication Date
10-1-2012
Abstract
A group of six math instructors used tablet PCs to teach their individual sections of a high enrollment gateway Pre-Calculus course in a diverse urban four-year college. Student performance in the experimental sections were compared to those in 31 other sections in terms of student retention, pass rates, and score on the department-wide standardized final exam. Student performance was higher in Tablet PC sections across all three measures, although in some cases the improvement was not substantial enough to improve students' overall course grades. Surveys of students and faculty in classes using a Tablet PC reflected overall positive impressions of the technology's use in mathematics classrooms.
Citation Information
Connelly Stockton, J. & Gregory, P. (2012). Instructor use of Tablet PCs in a College Pre-Calculus Course: Implementation & Assessment. Journal of Computers in Mathematics and Science Teaching, 31(4), 415-432. Chesapeake, VA: Association for the Advancement of Computing in Education (AACE).