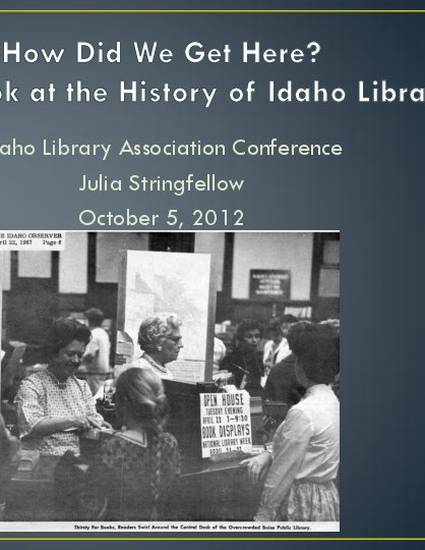 Presentation
How Did We Get Here? A Brief Look at the History of Idaho Libraries
Idaho Library Association Conference (2012)
Abstract
Have you ever wondered how the early towns of Idaho received books before the first library was created? This session will explore the history of the Idaho Library System, starting with the early travelling libraries of the 1890s to the creation of the Idaho State Library in 1901 and subsequent founding of libraries throughout the state, including the Carnegie libraries. Librarians and others who have played a significant role in the success of Idaho libraries will also be discussed, such as Eli M. Oboler and Gardner Hanks. Organizations created in support of libraries and librarians throughout the state, such as ILA and LiLI, will also be covered. The session provides a great history lesson as a summary of the state's fascinating library history.
Publication Date
October 5, 2012
Citation Information
Julia Stringfellow. "How Did We Get Here? A Brief Look at the History of Idaho Libraries"
Idaho Library Association Conference
(2012)
Available at: http://works.bepress.com/julia_stringfellow/16/