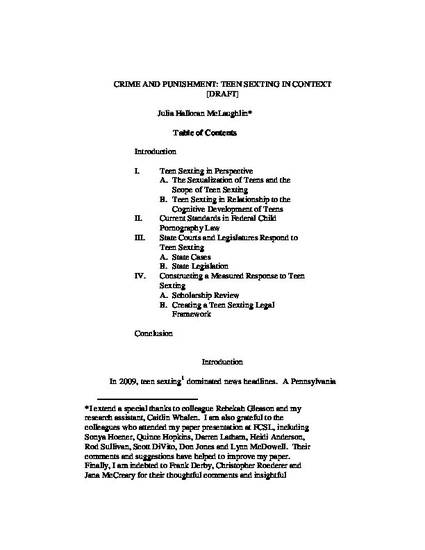 Article
Crime and Punishment: Teen Sexting in Context
115 Penn St. L. Rev. 135 (2010) (2010)
Abstract
Technology has, once again, outpaced the law. In the sixties, spin the bottle and seven minutes in heaven introduced young teens to the mysteries of the opposite sex. In the seventies, a racy Polaroid picture seemed miraculous. Now, the societal veil cloaking teenage sexuality has been lifted entirely and budding libidos have escaped from dim basements into cyber space. Sex is omnipresent in our society: on prime-time TV, in magazines, movies and on the web. Youth is glorified and sex is celebrated and youthful sex joins these twin ideals. Our constitution protects free expression. Now that every teen with a cell phone is a potential creator and disseminator of nude photos, where is the line between legal expression and illegal predation? Based upon a review of the relevant literature and developmental research, the act of teen sexting should be narrowly defined and appropriately redressed through the juvenile justice system. The first part of this paper addresses the recent spate of teen sexting cases across the United States in relationship to the developmental stages of teen physical and cognitive maturation. The second part explores the federal law and policy underlying the distinction between obscenity and child pornography. The third part reviews the judicial and legislative response, thus far, to teen sexting. The fourth part considers the existing scholarship regarding teen sexting and self-produced child pornography and proposes a developmentally appropriate legal response to teen sexting.
Keywords
Juvenile law,
sexting,
child pornography
Citation Information
Julia Halloran McLaughlin. "Crime and Punishment: Teen Sexting in Context"
115 Penn St. L. Rev. 135 (2010)
(2010)
Available at: http://works.bepress.com/julia_mclaughlin/1/