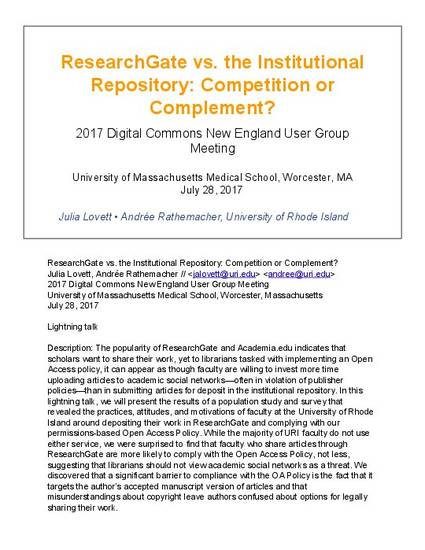 Presentation
ResearchGate vs. the Institutional Repository: Competition or Complement?
Technical Services Faculty Presentations
Date of Original Version
7-28-2017
Abstract
Slides with speakers' notes from a presentation at the 2017 Digital Commons New England User Group Meeting, which took place on July 28, 2017 at the Albert Sherman Center, University of Massachusetts Medical School, Worcester, MA. Additional files include slides without speakers' notes, speakers' notes, program proposal, and meeting schedule. Also posted at: http://escholarship.umassmed.edu/neirug/2017/program/13/.
Citation Information
Julia Lovett and Andrée Rathemacher. "ResearchGate vs. the Institutional Repository: Competition or Complement?" (2017)
Available at: http://works.bepress.com/julia_lovett/36/