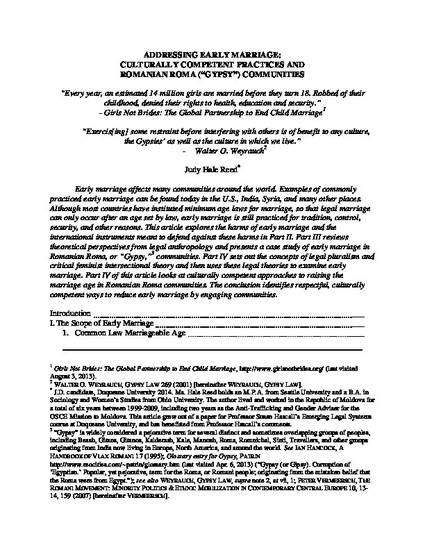 Unpublished Paper
ADDRESSING EARLY MARRIAGE: CULTURALLY COMPETENT PRACTICES AND ROMANIAN ROMA ("GYPSY") COMMUNITIES
ExpressO (2013)
Abstract
Early marriage affects many communities around the world. Examples of commonly practiced early marriage can be found today in the U.S., India, Syria, and many other places. Although most countries have instituted minimum age laws for marriage, so that legal marriage can only occur after an age set by law, early marriage is still practiced for tradition, control, security, and other reasons. This article explores the harms of early marriage and the international instruments meant to defend against these harms in Part II. Part III reviews theoretical perspectives from legal anthropology and presents a case study of early marriage in Romanian Roma, or "Gypsy," communities. Part IV sets out the concepts of legal pluralism and critical feminist intersectional theory and then uses these legal theories to examine early marriage. Part IV of this article looks at culturally competent approaches to raising the marriage age in Romanian Roma communities. The conclusion identifies respectful, culturally competent ways to reduce early marriage by engaging communities.
Keywords
anthropology of law,
arranged marriage,
best practices,
child marriage,
child protection,
child rights,
community development,
comparative law,
critical feminist theory,
cultural competency,
early marriage,
forced marriage,
feminism,
good practices,
human rights,
implementation of rights,
international development,
intersectionality,
legal systems,
racism,
Roma,
Roma law,
Roma rights,
Roma women's rights,
Romani,
Romania,
women's rights
Publication Date
August 21, 2013
Citation Information
Judith A Hale Reed. "ADDRESSING EARLY MARRIAGE: CULTURALLY COMPETENT PRACTICES AND ROMANIAN ROMA ("GYPSY") COMMUNITIES"
ExpressO
(2013)
Available at: http://works.bepress.com/judy_hale_reed/1/