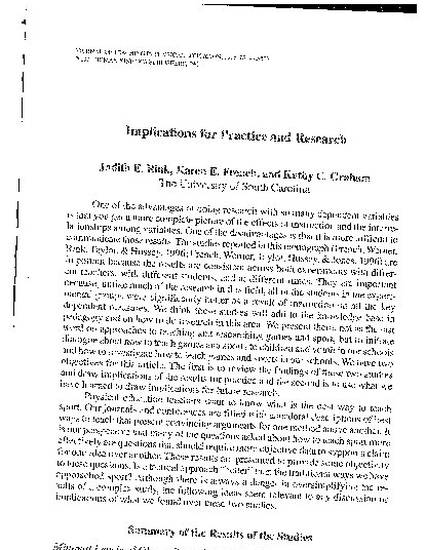 Article
Implications for Practice and Research
Journal of Teaching in Physical Education
Publication Date
7-1-1996
Subject Area(s)
Physical Education
Abstract
One of the advantages of doing research with so many dependent variables is that you get a more complete picture of the effects of instruction and the interrelationships among variables. One of the disadvantages is that it is more difficult to communicate those results. The studies reported in this monograph (French, Werner, Rink, Taylor, & Hussey, 1996; French, Werner, Taylor, Hussey, & Jones, 1996) are important because the results are consistent across both experiments with different teachers, with different students, and at different times. They are important because, unlike much of the research in this field, all of the students in the experimental groups were significantly better as a result of instruction on all the key dependent measures. We think these studies will add to the knowledge base in pedagogy and on how to do research in this area. We present them, not as the last word on approaches to teaching and researching games and sport, but to initiate dialogue about how to teach games and sports to children and youth in our schools and how to investigate how to teach games and sports in our schools. We have two objectives for this article. The first is to review the findings of these two studies and draw implications of the results for practice and the second is to use what we have learned to draw implications for future research.
Citation Information
Judith E. Rink, Karen E. French and Kathy C. Graham. "Implications for Practice and Research"
Journal of Teaching in Physical Education
Vol. 15 Iss. 4 (1996) p. 490 - 502
Available at: http://works.bepress.com/judith_rink/20/