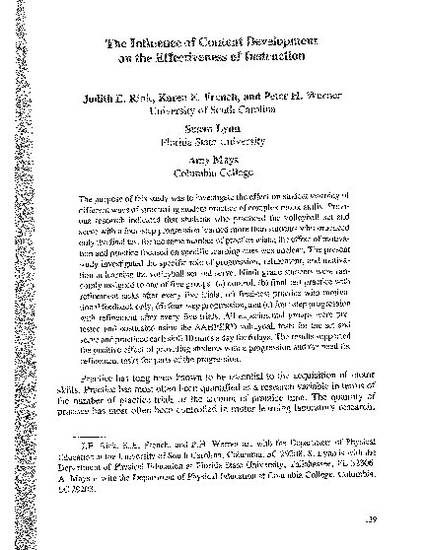 Article
The Influence of Content Development on the Effectiveness of Instruction
Journal of Teaching in Physical Education
Publication Date
1-1-1992
Subject Area(s)
Physical Education
Abstract
The purpose of this study was to investigate the effect on student learning of different ways of structuring student practice of complex motor skills. Previous research indicated that students who practiced the volleyball set and serve with a four-step progression learned more than students who practiced only the final test for the same number of practice trials; the effect of motivation and practice focused on specific learning cues was unclear. The present study investigated the specific role of progression, refinement, and motivation in learning the volleyball set and serve. Ninth-grade students were randomly assigned to one of five groups: (a) control, (b) final-test practice with refinement tasks after every five trials, (c) final-test practice with motivational feedback only, (d) four-step progression, and (e) four-step progression with refinement after every five trials. All experimental groups were pre-tested and posttested using the AAHPERD volleyball test for the set and server and practiced each skill 10 times a day for 6 days. The results supported the positive effect of providing students with a progression and the need for refinement tasks for parts of the progression.
Citation Information
Judith E. Rink, Karen E. French, Peter H. Werner, Susan Lynn, et al.. "The Influence of Content Development on the Effectiveness of Instruction"
Journal of Teaching in Physical Education
Vol. 11 Iss. 2 (1992) p. 139 - 149
Available at: http://works.bepress.com/judith_rink/14/