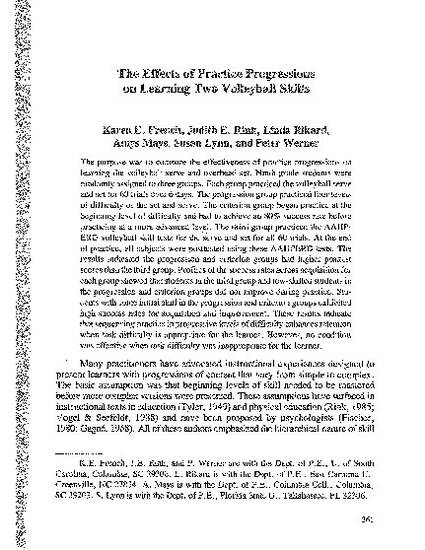 Article
The Effects of Practice Progressions on Learning Two Volleyball Skills
Journal of Teaching in Physical Education
Publication Date
4-1-1991
Subject Area(s)
Physical Education
Abstract
The purpose was to compare the effectiveness of practice progressions on learning the volleyball serve and overhead set. Ninth-grade students were randomly assigned to three groups. Each group practiced the volleyball serve and set for 60 trials over 6 days. The progression group practiced four levels of difficulty of the set and serve. The criterion group began practice at the beginning level of difficulty and had to achieve an 80% success rate before practicing at a more advanced level. The third group practiced the AAHPERD volleyball skill tests for the serve and set for all 60 trials. At the end of practice, all subjects were posttested using these AAHPERD tests. The results indicated the progression and criterion groups had higher posttest scores than the third group. Profiles of the success rates across acquisition for each group showed that students in the third group and low-skilled students in the progression and criterion groups did not improve during practice. Students with some initial skill in the progression and criterion groups exhibited high success rates for acquisition and improvement. These results indicate that sequencing practice in progressive levels of difficulty enhances retention when task difficulty is appropriate for the learner. However, no condition was effective when task difficulty was inappropriate for the learner.
Citation Information
Karen E. French, Judith E. Rink, Linda Rikard, Amy Mays, et al.. "The Effects of Practice Progressions on Learning Two Volleyball Skills"
Journal of Teaching in Physical Education
Vol. 10 Iss. 3 (1991) p. 261 - 274
Available at: http://works.bepress.com/judith_rink/13/