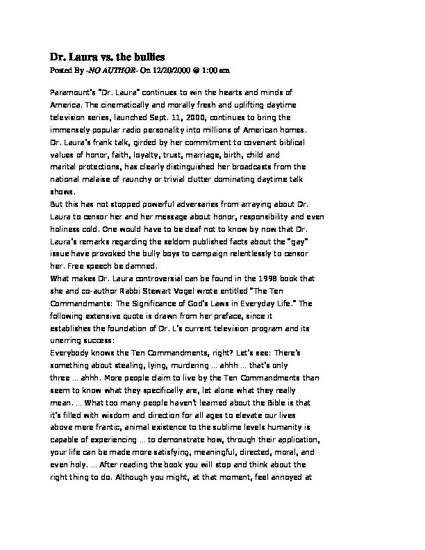 Article
Dr. Laura vs. the Bullies
World Net Daily (2000)
Abstract
Paramount's "Dr. Laura" continues to win the hearts and minds of America. The cinematically and morally fresh and uplifting daytime television series, launched Sept. 11, 2000, continues to bring the immensely popular radio personality into millions of American homes. Dr. Laura's frank talk, girded by her commitment to covenant biblical values of honor, faith, loyalty, trust, marriage, birth, child and marital protections, has clearly distinguished her broadcasts from the national malaise of raunchy or trivial clutter dominating daytime talk shows.
Publication Date
December 20, 2000
Citation Information
Judith A. Reisman. "Dr. Laura vs. the Bullies"
World Net Daily
(2000)
Available at: http://works.bepress.com/judith_reisman/67/