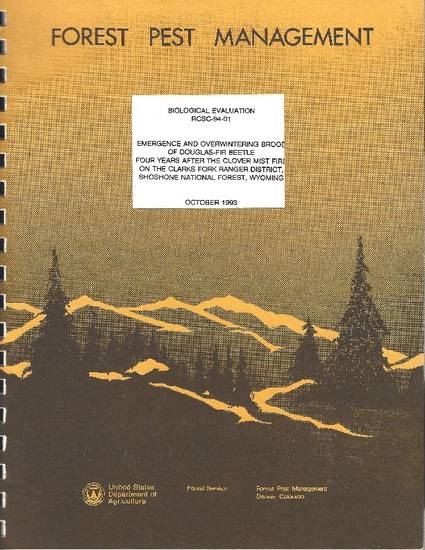 Other
Emergence and Overwintering Brood of Douglas-Fir Beetle Four Years After the Clover MIst Fire on the Clarks Fork Ranger District, Shoshone National Forest, Wyoming
(1993)
Abstract
The emergence of adult Douglas-fir beetles (DFB), Dendroctonus pseudotsugae Hopkins, from their brood trees in 1992 occurred throughout the summer months with a peak in early July, suggesting that there is one annual flight of new adults in this area. A similar density of DFB emerged from trees as overwintered within them, suggesting excellent winter survival. Females comprised 57% of the adults collected. Emergence patterns were similar for both sexes.
Overwintering brood densities of the '92-'93 Douglas-fir beetle generation averaged 29.6 per 36 sq. in. bark sample in November 1992. Brood densities were far higher than 1991 levels. Atypical for DFB, most brood in fall 1992 samples were present in the larval stage, similar to 1990 samples when high brood densities also were found. Gallery starts and total gallery length per bark sample indicated high attack densities and full occupancy of the food resource. About 7 DFB survived to fall 1992 per attacking female, portending a population increase. Natural enemies were not consistently recovered, although they continued at higher levels than found in 1990, the first year following the Clover Mist fire that DFB enemies were sampled.
Aerial survey showed that about 5,600 Douglas-fir were killed by the '90-'91 DFB generation, including numerous groups of 50-400 dead trees. The '91-'92 DFB generation killed some 3,000 trees in the same area. This reduction in tree mortality was ascribed to lower brood production, due, in part, to high winter mortality of the parent generation.
Based on individual tree data and assuming mild to normal winter temperatures, the DFB population might be expected to increase 4 to 10 times from 1992 to 1993. Management alternatives to reduce the impact of the DFB epidemic are discussed and prompt treatment of infested trees is recommended where feasible.
Publication Date
October, 1993
Citation Information
Willis C Schaupp, Jr. "Emergence and Overwintering Brood of Douglas-Fir Beetle Four Years After the Clover MIst Fire on the Clarks Fork Ranger District, Shoshone National Forest, Wyoming" (1993)
Available at: http://works.bepress.com/judith_pasek/26/