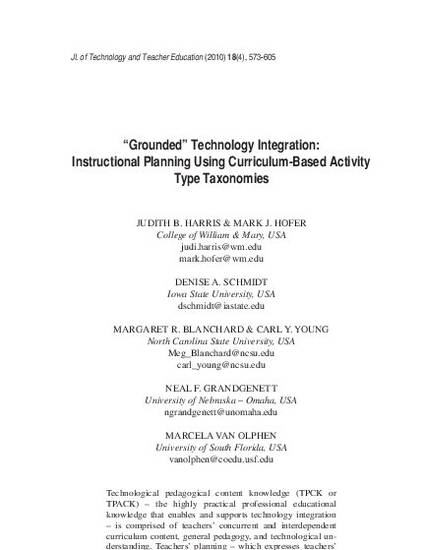 Article
"Grounded" Technology Integration: Instructional Planning Using Curriculum-Based Activity Type Taxonomies
Journal of Technology and Teacher Education
Publication Date
10-1-2010
Abstract
Technological pedagogical content knowledge (TPCK or TPACK) – the highly practical professional educational knowledge that enables and supports technology integration – is comprised of teachers' concurrent and interdependent knowledge of curriculum content, general pedagogy, and technological understanding. Teachers' planning – which expresses teachers' professional knowledge (including TPACK) in pragmatic ways -- is situated, contextually sensitive, routinized, and activity-based. To assist with technology integration, therefore, we suggest using what is understood from research about teachers' knowledge and instructional planning to form an approach to curriculum-based technology integration that is predicated upon teachers combining technologically supported learning activity types selected from content-keyed activity type taxonomies. In this article, we describe this approach to curriculum-based technology integration, illustrating it with overviews of and examples from six curriculum-based learning activity types taxonomies that have been developed to date. We invite our readers to vet and use these materials, participating in their further refinement via online surveys available on the Activity Types Wiki (http://activitytypes.wmwikis.net/).
Citation Information
Judith B. Harris, Mark J Hofer, Denise A. Schmidt, Margaret R. Blanchard, et al.. ""Grounded" Technology Integration: Instructional Planning Using Curriculum-Based Activity Type Taxonomies"
Journal of Technology and Teacher Education
Vol. 18 Iss. 4 (2010) p. 573 - 605
Available at: http://works.bepress.com/judith-harris/7/