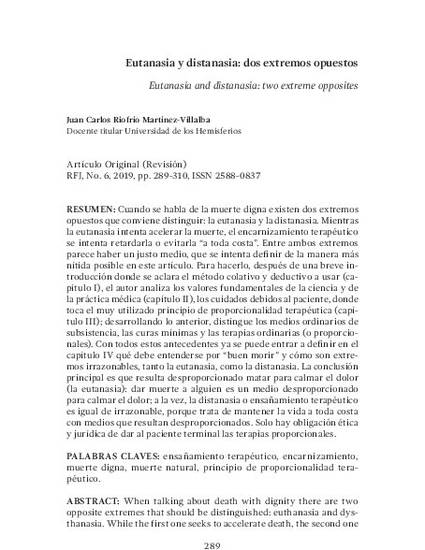 Article
Eutanasia y distanasia: dos extremos opuestos
Revista de la Facultad de Jurisprudencia de la Pontificia Universidad Católica del Ecuador (RFJ) (2019)
Abstract
Cuando se habla de la muerte digna existen dos extremos opuestos que conviene distinguir: la eutanasia y la distanasia. Mientras la eutanasia intenta acelerar la muerte, el encarnizamiento terapéutico se intenta retardarla o evitarla "a toda costa". Entre ambos extremos parece haber un justo medio, que se intenta definir de la manera más nítida posible en este artículo. Para hacerlo, después de una breve introducción donde se aclara el método colativo y deductivo a usar (capítulo I), el autor analiza los valores fundamentales de la ciencia y de la práctica médica (capítulo II), los cuidados debidos al paciente, donde toca el muy utilizado principio de proporcionalidad terapéutica (capítulo III); desarrollando lo anterior, distingue los medios ordinarios de subsistencia, las curas mínimas y las terapias ordinarias (o proporcionales). Con todos estos antecedentes ya se puede entrar a definir en el capítulo IV qué debe entenderse por "buen morir" y cómo son extremos irrazonables, tanto la eutanasia, como la distanasia. La conclusión principal es que resulta desproporcionado matar para calmar el dolor (la eutanasia): dar muerte a alguien es un medio desproporcionado para calmar el dolor; a la vez, la distanasia o ensañamiento terapéutico es igual de irrazonable, porque trata de mantener la vida a toda costa con medios que resultan desproporcionados. Solo hay obligación ética y jurídica de dar al paciente terminal las terapias proporcionales. 
ABSTRACT: When talking about death with dignity there are two opposite extremes that should be distinguished: euthanasia and dysthanasia. While the first one seeks to accelerate death, the second one tries to delay or avoid it "at any cost". Between both ends there seems to be a right balance, which this article tries to define as clearly as possible. To do so, after a brief introduction where the collative and deductive methods used are presented (chapter I), the author analyzes the fundamental values of science and medical practice (chapter II), the care due to the patient, where the widely used principle of therapeutic proportionality comes in (chapter III); developing this, the distinction between ordinary means of subsistence, minimum cures and ordinary (or proportional) therapies take place (chapter IV). With all this background, the author can define what should be understood by "good death" and identify its unreasonable extremes, both euthanasia and dysthanasia. There is only an ethical and legal obligation to give a terminal patient the proportional therapies. The main conclusion is that killing a person is a disproportionate way to calm pain and dysthanasia is equally irrational.
Keywords
ensañamiento terapéutico,
encarnizamiento,
muerte digna,
muerte natural,
principio de proporcionalidad terapéutico.,
therapeutic cruelty,
fierceness,
dignified death,
natural death,
Principle of therapeutic proportionality
Publication Date
December, 2019
Citation Information
Juan Carlos Riofrío Martínez-Villalba. "Eutanasia y distanasia: dos extremos opuestos"
Revista de la Facultad de Jurisprudencia de la Pontificia Universidad Católica del Ecuador (RFJ)
Vol. 6 Iss. 2 (2019) p. 289 - 310 ISSN: 2588-0837
Available at: http://works.bepress.com/juan_carlos_riofrio/74/
Creative Commons license
This work is licensed under a Creative Commons CC_BY International License.