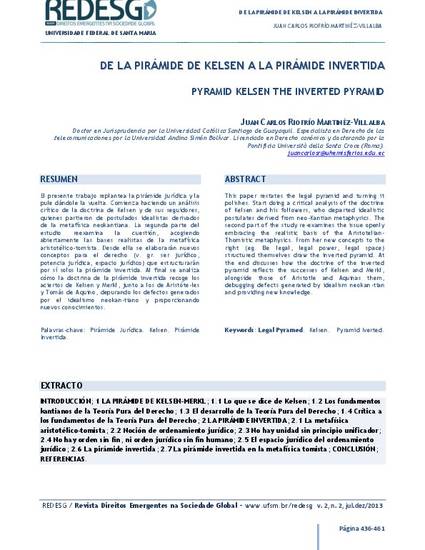 Article
De la pirámide de Kelsen a la pirámide invertida
REDESG / Revista Direitos Emergentes na Sociedade Global (2013)
Abstract
El presente trabajo replantea la pirámide jurídica y la pule dándole la vuelta. Comienza haciendo un análisis crítico de la doctrina de Kelsen y de sus seguidores, quienes partieron de postulados idealistas derivados de la metafísica neokantiana. La segunda parte del estudio reexamina la cuestión, acogiendo abiertamente las bases realistas de la metafísica aristotélico-tomista. Desde ella se elaborarán nuevos conceptos para el derecho (v. gr. ser jurídico, potencia jurídica, espacio jurídico) que estructurarán por sí solos la pirámide invertida. Al final se analiza cómo la doctrina de la pirámide invertida recoge los aciertos de Kelsen y Merkl, junto a los de Aristóteles y Tomás de Aquino, depurando los defectos generados por el idealismo neokantiano y proporcionando nuevos conocimientos.
The present paper questions the Legal Pyramid and polishes it by turning it upside-down. The paper begins by criticizing Kelsen's doctrine and that of his followers; doctrine derived form idealistic postulates taken form Kantian metaphysics. The second part of the paper re-assesses Kelsen's concepts by examining them under the light of Thomist-Aristotelic philosophy. From the latter's philosophy arise new legal concepts such as juridical being, juridical potency and juridical space. The new concepts can be structured into the Inverted Pyramid Theory. To conclude, the paper analyses how the Inverted Pyramid Theory embraces Kelsen's successes, and at the same time improves them by contributing new concepts and eliminating errors derived form Kant's metaphysical thought.
Keywords
Pirámide Jurídica. Kelsen. Pirámide Invertida,
Legal Pyramed,
Pyramid Iverted
Citation Information
Juan Carlos Riofrío Martínez-Villalba. "De la pirámide de Kelsen a la pirámide invertida"
REDESG / Revista Direitos Emergentes na Sociedade Global
Vol. 2 Iss. 2 (2013)
Available at: http://works.bepress.com/juan_carlos_riofrio/46/