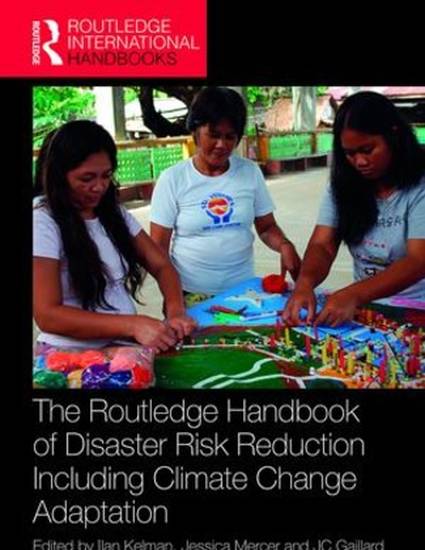 Contribution to Book
Chapter 29. International Organizations Doing Disaster Risk Reduction Including Climate Change Adaptation
Routledge Handbook of Disaster Risk Reduction Including Climate Change Adaptation (2017)
Abstract
Intergovernmental organisations (IGOs) are entities created by states to facilitate cooperation, provide a forum for discussion, resolve disputes, and exchange information among nations (Brahm 2005). IGOs are formed when several lawful state representatives provide legal personality to the entity, or group, through a process of ratification. Brahm (2005) differentiates IGOs from other multilateral mechanisms, such as groups, coalitions (e.g., G8, G20, and treaties) or agreements (e.g., North American Free Trade Agreement). Others (YIO 2015) consider an IGO to be established by a treaty or agreement that acts as a charter creating the group and generates obligations between governments, whether the agreement is eventually published or not. The Yearbook of International Organizations 2015–2016 reports that there are 2,412 organisations under multilateral treaties and intergovernmental agreement categories (YIO 2015).
The United Nations (UN) is a prominent global intergovernmental organisation. The UN acts through six principal bodies: General Assembly, Security Council, Economic and Social Council, Secretariat, International Court of Justice, and the UN Trusteeship Council. Other UN specialised agencies, funds, programs, and entities cover multiple development and environmental themes.
The UN intergovernmental mechanisms that lead the discussion on disaster risks and climate change include the UN Office for Disaster Risk Reduction (UNISDR), the Intergovernmental Panel on Climate Change (IPCC), and the UN Framework Convention on Climate Change (UNFCCC). Other UN intergovernmental mechanisms that play a minor role but are still important in the disaster risk and climate change discussion include the World Meteorological Organization (WMO), UN Environment Programme (UNEP), and the UN Development Programme (UNDP).
By analysing IGOs within a broader context than those solely associated with disaster risk conditions, including climate change, we can visualise the various IGO dimensions: 1) the ideal and deliberative realm where the mechanism facilitates active participation among member states and other stakeholders (e.g., UNFCCC); 2) the technical or technocratic dimension generated within the mechanism itself, which does not necessarily involve member states (e.g., 'The UN System Delivering as One'); and 3) other bilateral or multilateral mechanisms, not necessarily subordinated or associated with the previous two (e.g., the US–Chinese agreement on emissions reductions announced in November 2014).
This chapter has four sections. The first section begins with a description of the context in which IGOs operate by addressing the topics of international disaster risk reduction (DRR) and climate regimes, the power-balance within the international mechanisms, the common but differentiated responsibility, and the quest for a flexible regimes. The second section on the UN System's role addresses the DRR and climate change cases. The third section deals with an inside analysis of the UN, the mandate and the challenge of moving the system in one direction. Finally, a reflection on the coming future looking for an integrated and comprehensive approach.
Keywords
Disaster,
risk,
climate,
United Nations,
Intergovernmental Organizations
Editor
Kelman, I., Mercer, J., Gaillard, J.C.
Citation Information
Juan Pablo Sarmiento. "Chapter 29. International Organizations Doing Disaster Risk Reduction Including Climate Change Adaptation" 2017th ed.Abingdon, U.K.
Routledge Handbook of Disaster Risk Reduction Including Climate Change Adaptation
(2017) p. 290 - 305
Available at: http://works.bepress.com/juan-sarmiento/44/