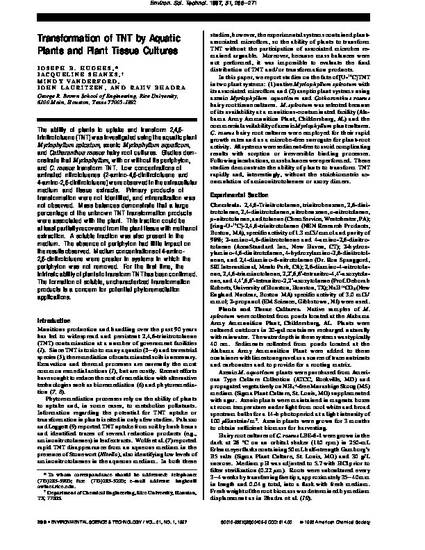 Article
Transformation of TNT by aquatic plants and plant tissue cultures
Environmental Science and Technology (1997)
Abstract
The ability of plants to uptake and transform 2,4,6-trinitrotoluene (TNT) was investigated using the aquatic plant Myriophyllum spicatum, axenic Myriophyllum aquaticum, and Catharanthus roseus hairy root cultures. Studies demonstrate that Myriophyllum, with or without its periphyton, and C. roseus transform TNT. Low concentrations of aminated nitrotoluenes (2-amino-4,6- dinitrotoluene and 4-amino-2,6-dinitrotoluene) were observed in the extracellular medium and tissue extracts. Primary products of transformation were not identified, and mineralization was not observed. Mass balances demonstrate that a large percentage of the unknown TNT transformation products were associated with the plant. This fraction could be at least partially recovered from the plant tissue with methanol extraction. A soluble fraction was also present in the medium. The absence of periphyton had little impact on the results observed. Medium concentrations of 4-amino-2,6- dinitrotoluene were greater in systems in which the periphyton was not removed. For the first time, the intrinsic ability of plants to transform TNT has been confirmed. The formation of soluble, uncharacterized transformation products is a concern for potential phytoremediation applications.
Keywords
methanol,
biodegradation,
biotransformation,
mineralization
Citation Information
Joseph B. Hughes, Jacqueline V. Shanks, Mindy Vanderford, John Lauritzen, et al.. "Transformation of TNT by aquatic plants and plant tissue cultures"
Environmental Science and Technology
Vol. 31 Iss. 1 (1997)
Available at: http://works.bepress.com/jshanks/1/