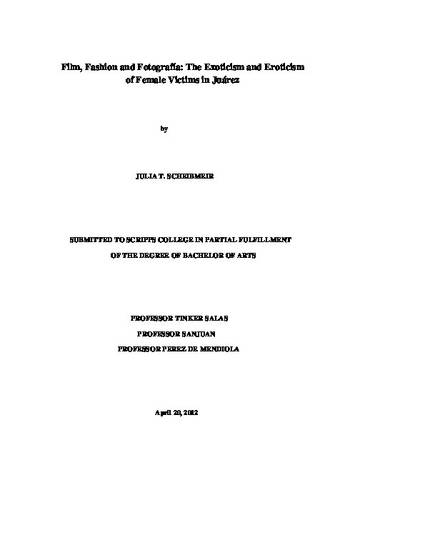 Presentation
Film, Fashion and Fotografía: The Exoticism and Eroticism of Female Victims in Juárez
Scripps College (2012)
Abstract
This thesis examines the phenomenon of feminicide in Ciudad Juarez, Mexico, and the representation of female victims in U.S. and Mexican mainstream media and performance activism. Specifically analyzing representations of maquiladora workers and feminicide victims in film, fashion and photography, this thesis explores the simultaneous fetishization and devaluation of border women in patriarchal society. By broadening the base of pressure for justice, via performance and internet activism, misogynist governments and policies can and will change.
Publication Date
Spring April 20, 2012
Citation Information
Julia T Scheibmeir. "Film, Fashion and Fotografía: The Exoticism and Eroticism of Female Victims in Juárez"
Scripps College
(2012)
Available at: http://works.bepress.com/jscheibm1187/1/