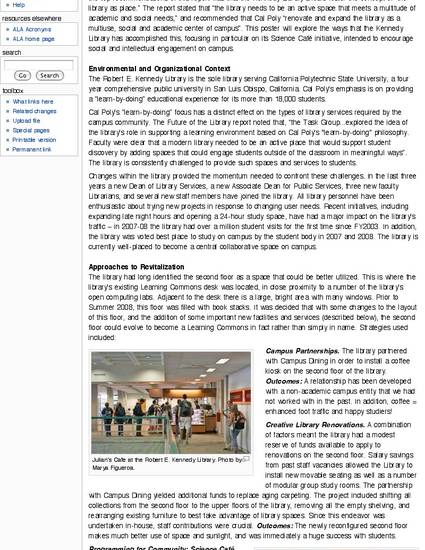 Other
Science Cafe: Conversation and Coffee at the Library
American Library Association 2009 Midwinter Meeting
Publication Date
2-3-2009
Abstract
In 2007 a task force was convened by Cal Poly's Provost to envision The Future of the Library. One of the top recommendations of this report was that the Kennedy Library should foster the concept of "the library as place." The report stated that "the library needs to be an active space that meets a multitude of academic and social needs," and recommended that Cal Poly "renovate and expand the library as a multi-use, social and academic center of campus". This poster will explore the ways that the Kennedy Library has accomplished this, focusing in particular on its Science Café initiative, intended to encourage social and intellectual engagement on campus.
Citation Information
Leanne Hindmarch and Jeanine M. Scaramozzino. "Science Cafe: Conversation and Coffee at the Library"
American Library Association 2009 Midwinter Meeting
(2009)
Available at: http://works.bepress.com/jscaramo/7/