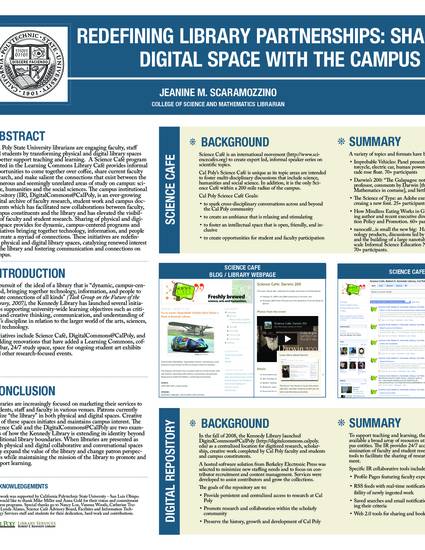 Other
Redefining Library Partnerships: Sharing Physical and Digital Space with the Campus Community
Special Libraries Association Annual Meeting: Washington, D.C.
Publication Date
6-14-2009
Abstract
Cal Poly State University librarians are engaging faculty, staff and students by transforming physical and digital library spaces to better support teaching and learning. A Science Café program hosted in the Learning Commons Library Café provides informal opportunities to come together over coffee, share current faculty research, and make salient the connections that exist between the numerous and seemingly unrelated areas of study on campus: science, humanities and the social sciences. The campus institutional repository (IR), DigitalCommons@CalPoly, is an ever-growing digital archive of faculty research, student work and campus documents which has facilitated new collaborations between faculty, campus constituents and the library and has elevated the visibility of faculty and student research. Sharing of physical and digital space provides for dynamic, campus-centered programs and initiatives bringing together technology, information, and people to create a myriad of connections. These initiatives are redefining physical and digital library spaces, catalyzing renewed interest in the library and fostering communication and connections on campus.
Citation Information
Jeanine Scaramozzino and Marisa Ramirez. "Redefining Library Partnerships: Sharing Physical and Digital Space with the Campus Community"
Special Libraries Association Annual Meeting: Washington, D.C.
(2009)
Available at: http://works.bepress.com/jscaramo/10/