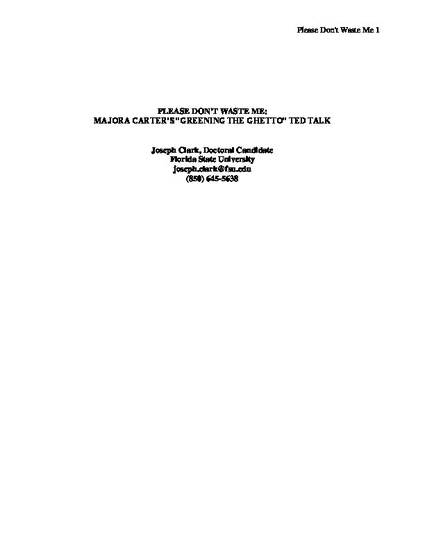 Unpublished Paper
Please Don't Waste Me: Majora Carter's 'Greening the Ghetto' TED Talk
Across Borders and Environments: Communication and Environmental Justice in International Contexts (2011)
Abstract
A speech by Bronx activist Majora Carter at the 2006 Technology, Entertainment, Design (TED) Talks event was reposted on the web and has since been embedded on blogs and sites around the web, garnering significant positive reaction. This paper comprises a case study of the text of the speech, its immediate delivery at the TED conference (as captured by video cameras at the event), and the way the message has been re-mediated by bloggers and web commentators in the years since. The paper examines the talk and its subsequent circulation both as an instance of environmental justice rhetoric, with its tropes of community and embodied experience, and as an exemplar of the way orality and human bodies in peril retain rhetorical force in an increasingly mediated environment.
Keywords
environmental justice,
visual rhetoric,
rhetorical criticism
Publication Date
June, 2011
Citation Information
Joseph S Clark. "Please Don't Waste Me: Majora Carter's 'Greening the Ghetto' TED Talk"
Across Borders and Environments: Communication and Environmental Justice in International Contexts
(2011)
Available at: http://works.bepress.com/js_clark/6/