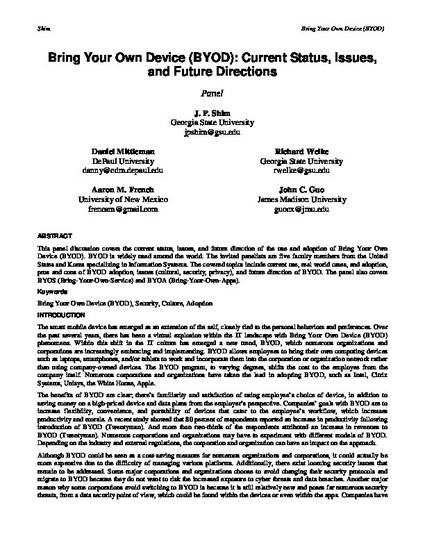 Article
Bring Your Own Device (BYOD): Current Status, Issues, and Future Directions
AMCIS 2013 Proceedings
Abstract
The smart mobile device has emerged as an extension of the self, closely tied to the personal behaviors and preferences. This panel discussion covers the current status, real world cases, adoption, pros/cons, issues (security, privacy), and future direction of the use and adoption of Bring-Your-Own-Device (BYOD). The panel also covers BYOS (Bring-Your-Own-Service) and BYOA (Bring-Your-Own-Apps).
Citation Information
J.P. Shim, Daniel Mittleman, Richard Welke, Aaron M. French, et al.. "Bring Your Own Device (BYOD): Current Status, Issues, and Future Directions"
Available at: http://works.bepress.com/jp_shim/15/