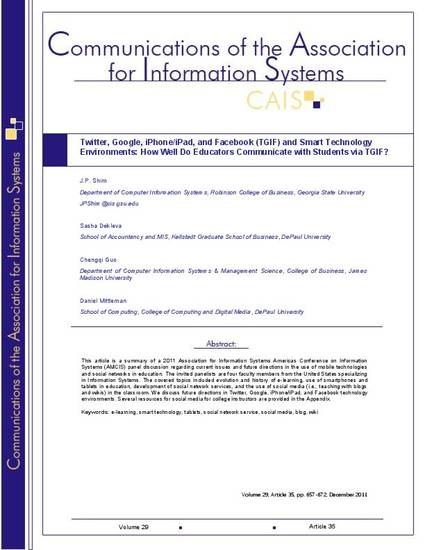 Article
Twitter, Google, iPhone/iPad, and Facebook (TGIF) and Smart Technology Environments: How Well Do Educators Communicate with Students via TGIF?
Communications of the Association for Information Systems
Publication Date
12-1-2011
Abstract
This article is a summary of a 2011 Association for Information Systems Americas Conference on Information Systems (AMCIS) panel discussion regarding current issues and future directions in the use of mobile technologies and social networks in education. The invited panelists are four faculty members from the United States specializing in Information Systems. The covered topics included evolution and history of e-learning, use of smartphones and tablets in education, development of social network services, and the use of social media (i.e., teaching with blogs and wikis) in the classroom. We discuss future directions in Twitter, Google, iPhone/iPad, and Facebook technology environments. Several resources for social media for college instructors are provided in the Appendix.
Citation Information
J.P. Shim, Sasha Dekleva, Chengqi Guo and Daniel Mittleman. "Twitter, Google, iPhone/iPad, and Facebook (TGIF) and Smart Technology Environments: How Well Do Educators Communicate with Students via TGIF?" (2011)
Available at: http://works.bepress.com/jp_shim/12/