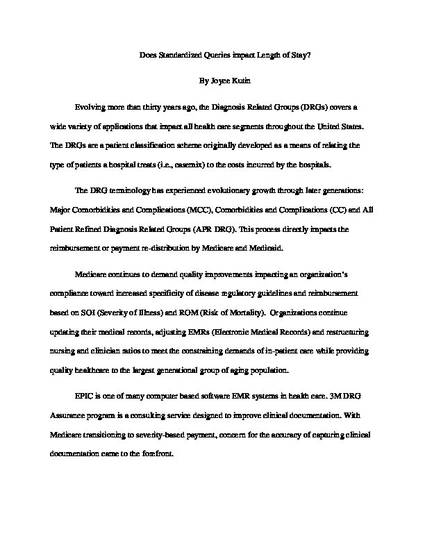 Unpublished Paper
Standardized Query Formatting
(2012)
Abstract
Evolving more than thirty years ago, the Diagnosis Related Groups (DRGs) covers a wide variety of applications that impact all health care segments throughout the United States. The DRGs are a patient classification scheme originally developed as a means of relating the type of patients a hospital treats (i.e., casemix) to the costs incurred by the hospitals.
The DRG terminology has experienced evolutionary growth through later generations: Major Comorbidities and Complications (MCC), Comorbidities and Complications (CC) and All Patient Refined Diagnosis Related Groups (APR DRG). This process directly impacts the reimbursement or payment re-distribution by Medicare and Medicaid.
Medicare continues to demand quality improvements impacting an organization's compliance toward increased specificity of disease regulatory guidelines and reimbursement based on SOI (Severity of Illness) and ROM (Risk of Mortality). Organizations continue updating their medical records, adjusting EMRs (Electronic Medical Records) and restructuring nursing and clinician ratios to meet the constraining demands of in-patient care while providing quality healthcare to the largest generational group of aging population.
EPIC is one of many computer based software EMR systems in health care. 3M DRG Assurance program is a consulting service designed to improve clinical documentation. With Medicare transitioning to severity-based payment, concern for the accuracy of capturing clinical documentation came to the forefront. Disease Required Guideline reviewers called clinical documentation specialists review clinical documents for code able information meeting criteria for admission and continued hospitalization. These collaborating Registered Nurses are a valuable commodity within their organization as well as their own sub-specialty case departments.
The clinicians are queried for clarification on documentation within the EMR that will assist in the coding ability and applicable casemix profiling of each patient. Template queries are utilized as a tool to assist in the encoding of data toward billing.
As the United States moves toward the implementation of ICD-10 it is imperative that templates for queries assist both clinicians and coders in capturing specifications required for applicable reimbursement based on SOI and ROM of hospitals. This will insure appropriate revenue as well as the potential of improving patient satisfaction.
Keywords
DRG,
Length of Stay,
ROM,
SOI,
Specificity,
Medicare,
ICD-9
Publication Date
Summer July 31, 2012
Citation Information
Joyce K Kutin. "Standardized Query Formatting" (2012)
Available at: http://works.bepress.com/joyce_kutin/3/