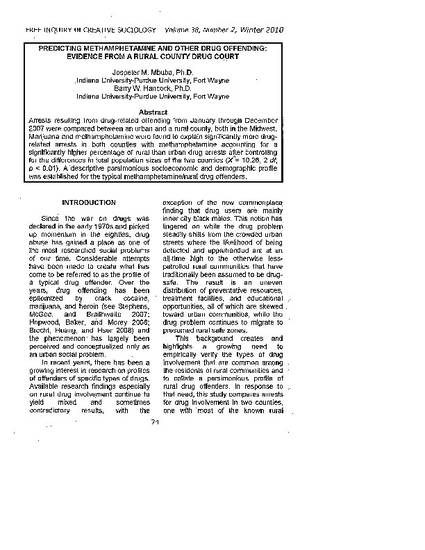 Article
Predicting Methamphetamine and Other Drug Offending: Evidence From a Rural County Drug Court
Free Inquiry in Creative Sociology (2010)
Abstract
Arrests resulting from drug-related offending from January through December 2007 were compared between an urban and a rural county, both in the Midwest. Marijuana and methamphetamine were found to explain significantly more drug-related arrests in both counties with methamphetamine accounting for a significantly higher percentage of rural than urban drug arrests after controlling for the differences in total population sizes of the two counties (X2 = 10.26, 2 df, p < .01). A descriptive parsimonious socio-economic and demographic profile was established for the typical methamphetamine/ rural drug offenders.
Citation Information
Jospeter M. Mbuba and Barry W. Hancock. "Predicting Methamphetamine and Other Drug Offending: Evidence From a Rural County Drug Court"
Free Inquiry in Creative Sociology
Vol. 38 Iss. 2 (2010)
Available at: http://works.bepress.com/jospetermbuba/42/