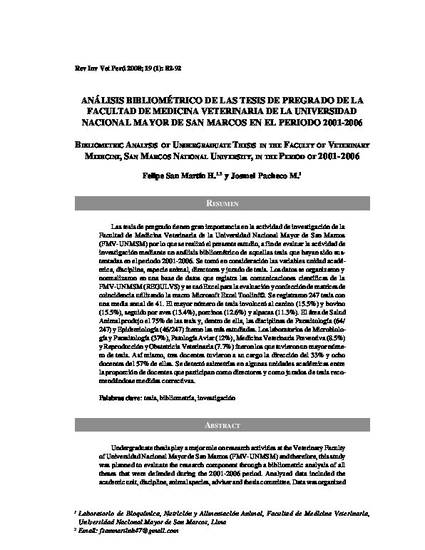 Article
ANÁLISIS BIBLIOMÉTRICO DE LAS TESIS DE PREGRADO DE LA FACULTAD DE MEDICINA VETERINARIA DE LA UNIVERSIDAD NACIONAL MAYOR DE SAN MARCOS EN EL PERIODO 2001-2006
Revista de Investigaciones Veterinarias del Perú (2008)
Abstract
Las tesis de pregrado tienen gran importancia en la actividad de investigación de la Facultad de Medicina Veterinaria de la Universidad Nacional Mayor de San Marcos (FMV-UNMSM) por lo que se realizó el presente estudio, a fin de evaluar la actividad de investigación mediante un análisis bibliométrico de aquellas tesis que hayan sido sus- tentadas en el periodo 2001-2006. Se tomó en consideración las variables unidad acadé- mica, disciplina, especie animal, directores y jurado de tesis. Los datos se organizaron y normalizaron en una base de datos que registra las comunicaciones científicas de la FMV-UNMSM (REGULVS) y se usó Excel para la evaluación y confección de matrices de coincidencia utilizando la macro Microsoft Excel Toolinf©. Se registraron 247 tesis con una media anual de 41. El mayor número de tesis involucró al canino (15.5%) y bovino (15.5%), seguido por aves (13.4%), porcinos (12.6%) y alpacas (11.3%). El área de Salud Animal produjo el 75% de las tesis y, dentro de ella, las disciplinas de Parasitología (64/ 247) y Epidemiología (46/247) fueron las más estudiadas. Los laboratorios de Microbiolo- gía y Parasitología (37%), Patología Aviar (12%), Medicina Veterinaria Preventiva (8.5%) y Reproducción y Obstetricia Veterinaria (7.7%) fueron los que tuvieron un mayor núme- ro de tesis. Así mismo, tres docentes tuvieron a su cargo la dirección del 33% y ocho docentes del 57% de ellas. Se detectó asimetrías en algunas unidades académicas entre la proporción de docentes que participan como directores y como jurados de tesis recomendándose medidas correctivas.
Undergraduate thesis play a major role on research activities at the Veterinary Faculty of Universidad Nacional Mayor de San Marcos (FMV-UNMSM) and therefore, this study was planned to evaluate the research component through a bibliometric analysis of all theses that were defended during the 2001-2006 period. Analyzed data included the academic unit, discipline, animal species, adviser and thesis committee. Data was organized and normalized in the institutional database for recording scientific publications (REGULVS) and MS Excel was used to evaluate and build a matrix of coincidences using the macro Microsoft Excel Toolinf©. A total of 247 theses were registered with an annual average of 41. Canine (15.5%), bovine (15.5%), poultry (13.4%), swine (12.6%) and alpaca (11.3%) were the most studied species. Seventy five percent of the theses were in the area of Animal Health, and among them, Parasitology (64/247) and Epidemiology (46/247) were the most studied disciplines. The laboratories of Microbiology and Parasitology (37%), Avian Pathology (12%), Preventive Veterinary Medicine (8.5%), and Reproduction and Veterinary Obstetrics (7.7%) generated most of the theses. Three lecturers were responsible for 33% of the thesis and eight of them for 57%. Asymmetry was detected among the number of advisers and participants of theses committees, so corrective measures were recommended.
Keywords
thesis,
bibliometric,
research
DOI
10.15381/rivep.v19i1.1267
Citation Information
josmel pacheco and Felipe San Martín. "ANÁLISIS BIBLIOMÉTRICO DE LAS TESIS DE PREGRADO DE LA FACULTAD DE MEDICINA VETERINARIA DE LA UNIVERSIDAD NACIONAL MAYOR DE SAN MARCOS EN EL PERIODO 2001-2006"
Revista de Investigaciones Veterinarias del Perú
Vol. 19 Iss. 1 (2008) p. 82 - 89 ISSN: 1609-9117
Available at: http://works.bepress.com/josmel-pacheco/1/
Creative Commons license
This work is licensed under a Creative Commons CC_BY-NC-ND International License.