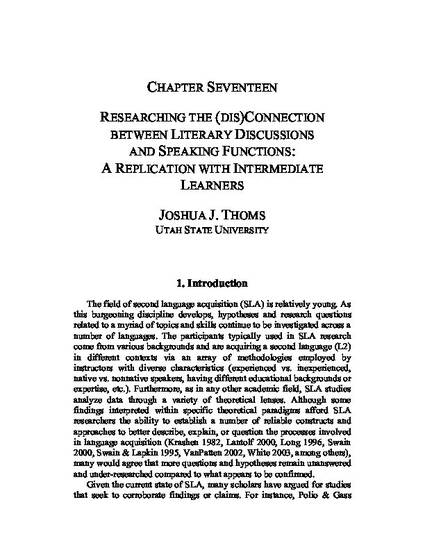 Contribution to Book
Researching the (dis)connection between literary discussions and speaking functions: A replication with intermediate learners
Lenguaje, arte, y revoluciones ayer y hoy: New approaches to hispanic linguistic, literary, and cultural studies (2011)
Abstract
Responding to the call for more replication studies in the fields of second language acquisition and applied linguistics (Ortega, 2009; Polio & Gass, 1997), this chapter reports on a conceptual study based on the work of Donato and Brooks (2004). The current study is different in that it analyzes whole-class discussions in Spanish between an instructor and her 19 students in an introductory Spanish literature course (i.e., 5th semester) at the college level. One overarching research question is explored along with two sub-questions: (1) Does an introductory-level literature course for Spanish language learners provide occasions during whole-class discussion for participation in Intermediate-level speaking functions as defined in the ACTFL Speaking Proficiency Guidelines?; (a) How often do students produce turns of more than one sentence while participating in a whole-class discussion?; and (b) Why and when do students produce turns that are more than one sentence? The study sheds light on the role of whole-class discussion on L2 learning in a college- and introductory-level L2 literature course.
Keywords
researching,
connection,
literary,
discussions,
speaking,
functions,
replication,
intermediate,
learners
Editor
A. Cortazar, R. Orozco
Publisher
Cambridge Scholars Publishing
Citation Information
Researching the (dis)connection between literary discussions and speaking functions: A replication with intermediate learners. In A. Cortazar & R. Orozco (Eds.), Lenguaje, arte, y revoluciones ayer y hoy: New approaches to hispanic linguistic, literary, and cultural studies (pp. 315–346). Newcastle, UK: Cambridge Scholars Publishing.