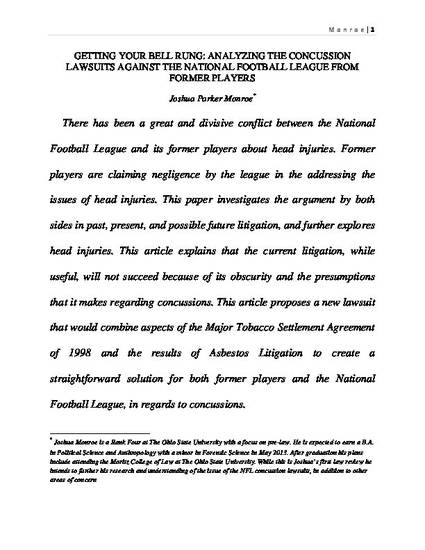 Article
GETTING YOUR BELL RUNG: ANALYZING THE CONCUSSION LAWSUITS AGAINST THE NATIONAL FOOTBALL LEAGUE FROM FORMER PLAYERS
Unpublished (2013)
Abstract
There has been a great and divisive conflict between the National Football League and its former players about head injuries. Former players are claiming negligence by the league in the addressing the issues of head injuries. This paper investigates the argument by both sides in past, present, and possible future litigation, and further explores head injuries. This article explains that the current litigation, while useful, will not succeed because of its obscurity and the presumptions that it makes regarding concussions. This article proposes a new lawsuit that would combine aspects of the Major Tobacco Settlement Agreement of 1998 and the results of Asbestos Litigation to create a straightforward solution for both former players and the National Football League, in regards to concussions.
Keywords
NFL Lawsuits,
Concussions,
Football,
Health,
Collective Bargaining
Citation Information
Joshua P Monroe. "GETTING YOUR BELL RUNG: ANALYZING THE CONCUSSION LAWSUITS AGAINST THE NATIONAL FOOTBALL LEAGUE FROM FORMER PLAYERS"
Unpublished
(2013)
Available at: http://works.bepress.com/joshua_monroe/1/