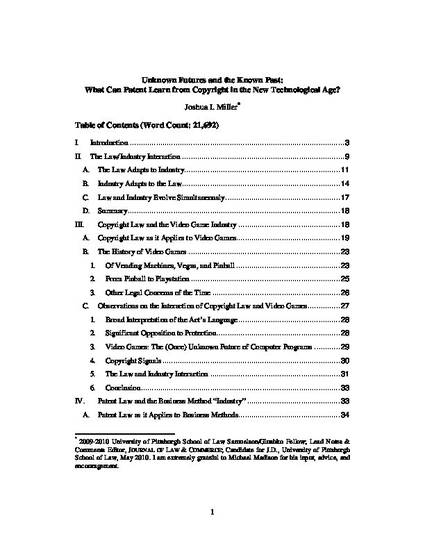 Article
Unknown Futures and the Known Past: What Can Patent Learn from Copyright in the New Technological Age?
Albany Law Journal of Science & Technology (2011)
Abstract
The debate over the patentability of business methods has raised broader questions as to the proper standard for patentability under 35 U.S.C. § 101 and the Constitution's Progress Clause. As the issue has risen to the Supreme Court, various parties have proposed a broad array of standards. These standards range from the Federal Circuit's "machine-or-transformation" test to IBM's proposed "technology" test. Virtually every one of the proposed standards is fatally flawed. The machine-or-transformation test essentially removes "process" from § 101 by linking the patentability of a process to other forms of § 101 subject matter. The technology test is simply too vague, as even the Federal Circuit has acknowledged that the definition of technology changes over time. Such limitations on patentable subject matter serve only to limit future innovation by restricting patent incentives to only those technologies encompassed by judicial language. In doing so, they fail to promote Progress as the Progress Clause requires. This article presents and analyzes the differing perspectives of patent and copyright through a pair of case studies: it provides historical accounts of video games and copyright, on the one hand, and business methods and patent, on the other. Through comparison of the studies, the article arrives at the conclusion that copyright is more flexible in its acceptance of new innovations, and that patent law can better achieve its goal of promoting progress by becoming more like copyright. Noting that copyright courts have always concentrated on the how (expression) rather than the what (books, statues, musical works, etc.), the article proposes that patent law does the same. By concentrating on application of fundamental principles, rather than whether a machine, composition, or process is technological, patent law can be made more adaptive, ensuring that unexpected future innovations will be protected by patent.
Keywords
patent subject matter,
business methods
Citation Information
Joshua I. Miller. "Unknown Futures and the Known Past: What Can Patent Learn from Copyright in the New Technological Age?"
Albany Law Journal of Science & Technology
Vol. 21 (2011)
Available at: http://works.bepress.com/joshua_miller/1/