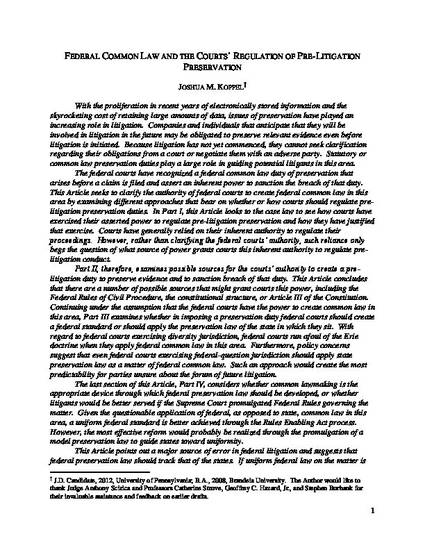 Unpublished Paper
Federal Common Law and the Courts' Regulation of Pre-Litigation Preservation
ExpressO (2012)
Abstract
With the proliferation in recent years of electronically stored information and the skyrocketing cost of retaining large amounts of data, issues of preservation have played an increasing role in litigation. Companies and individuals that anticipate that they will be involved in litigation in the future may be obligated to preserve relevant evidence even before litigation is initiated. Because litigation has not yet commenced, they cannot seek clarification regarding their obligations from a court or negotiate them with an adverse party. Statutory or common law preservation duties play a large role in guiding potential litigants in this area.
The federal courts have recognized a federal common law duty of preservation that arises before a claim is filed and assert an inherent power to sanction the breach of that duty. This Article seeks to clarify the authority of federal courts to create federal common law in this area by examining different approaches that bear on whether or how courts should regulate pre-litigation preservation duties. In Part I, this Article looks to the case law to see how courts have exercised their asserted power to regulate pre-litigation preservation and how they have justified that exercise. Courts have generally relied on their inherent authority to regulate their proceedings. However, rather than clarifying the federal courts' authority, such reliance only begs the question of what source of power grants courts this inherent authority to regulate pre-litigation conduct.
Part II, therefore, examines possible sources for the courts' authority to create a pre-litigation duty to preserve evidence and to sanction breach of that duty. This Article concludes that there are a number of possible sources that might grant courts this power, including the Federal Rules of Civil Procedure, the constitutional structure, or Article III of the Constitution. Continuing under the assumption that the federal courts have the power to create common law in this area, Part III examines whether in imposing a preservation duty federal courts should create a federal standard or should apply the preservation law of the state in which they sit. With regard to federal courts exercising diversity jurisdiction, federal courts run afoul of the Erie doctrine when they apply federal common law in this area. Furthermore, policy concerns suggest that even federal courts exercising federal-question jurisdiction should apply state preservation law as a matter of federal common law. Such an approach would create the most predictability for parties unsure about the forum of future litigation.
The last section of this Article, Part IV, considers whether common lawmaking is the appropriate device through which federal preservation law should be developed, or whether litigants would be better served if the Supreme Court promulgated Federal Rules governing the matter. Given the questionable application of federal, as opposed to state, common law in this area, a uniform federal standard is better achieved through the Rules Enabling Act process. However, the most effective reform would probably be realized through the promulgation of a model preservation law to guide states toward uniformity.
This Article points out a major source of error in federal litigation and suggests that federal preservation law should track that of the states. If uniform federal law on the matter is truly necessary, in most cases the federal courts act beyond their competence in creating a federal standard. The rulemaking process is better suited for such an endeavor.
Keywords
Preservation,
pre-litigation,
pre-litigation preservation,
erie,
common law,
preservation law,
federal preservation law,
federal preservatio duties
Publication Date
March 5, 2012
Citation Information
Joshua M. Koppel. "Federal Common Law and the Courts' Regulation of Pre-Litigation Preservation"
ExpressO
(2012)
Available at: http://works.bepress.com/joshua_koppel/3/