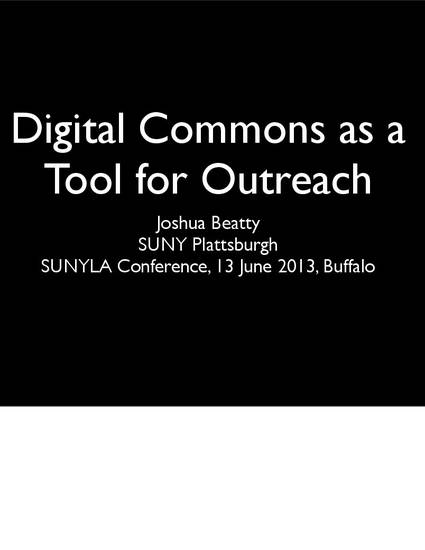 Presentation
Digital Commons as a Tool for Outreach
Library and Information Technology Services Scholarship
Document Type
Presentation
Publication Date
6-13-2013
Abstract
This presentation describes SUNY Plattsburgh's use of Digital Commons to increase outreach to faculty and students. I explain the origins of this approach, discuss how librarians work with faculty to co-administer series, provide examples of this collaboration, and, finally, examine a particular setback that sheds light on the strengths and weaknesses of the outreach approach.
Citation Information
Beatty, Joshua F. "Digital Commons as a Tool for Outreach." Presentation at the State University of New York Librarians Association Conference, Buffalo, NY, June 13, 2013.