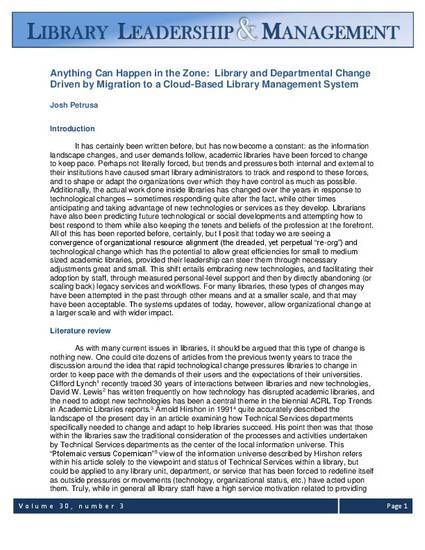 Article
Anything Can Happen in the Zone: Library and Departmental Change Driven by Migration to a Cloud-Based Library Management System
Library Leadership & Management
Publication Date
1-1-2016
Additional Publication URL
https://journals.tdl.org/llm/index.php/llm/article/view/7165
Abstract
Butler University Libraries had already made progressive changes in public services areas, but Technical Services remained unchanged and bound to legacy practices from decades past. For us, the best catalyst for change was a system migration to a cloud-based type of management system. This system migration was tied to organizational restructuring and a new strategic plan, each of which intertwined with the details of the migration project and was underpinned by thoughtful analysis of how to help employees through change. Details of the migration are discussed in relation to how they inspired departmental and organizational change through updated technology.
Citation Information
Josh Petrusa. "Anything Can Happen in the Zone: Library and Departmental Change Driven by Migration to a Cloud-Based Library Management System"
Library Leadership & Management
Vol. 30 Iss. 3 (2016) p. 1 - 9
Available at: http://works.bepress.com/josh-petrusa/1/