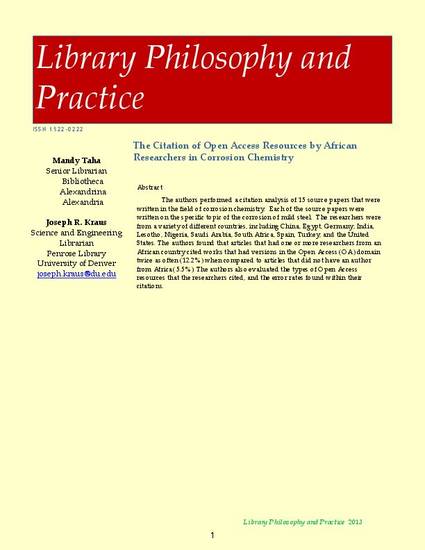 Article
The Citation of Open Access Resources by African Researchers in Corrosion Chemistry
Library Philosophy and Practice (e-journal)
Abstract
The authors performed a citation analysis of 15 source papers that were written in the field of corrosion chemistry. Each of the source papers were written on the specific topic of the corrosion of mild steel. The researchers were from a variety of different countries, including China, Egypt, Germany, India, Lesotho, Nigeria, Saudi Arabia, South Africa, Spain, Turkey, and the United States. The authors found that articles that had one or more researchers from an African country cited works that had versions in the Open Access (OA) domain twice as often (12.2%) when compared to articles that did not have an author from Africa (5.5%). The authors also evaluated the types of Open Access resources that the researchers cited, and the error rates found within their citations.
Citation Information
Mandy Taha and Joseph R. Kraus. "The Citation of Open Access Resources by African Researchers in Corrosion Chemistry"
Available at: http://works.bepress.com/josephkraus/1/