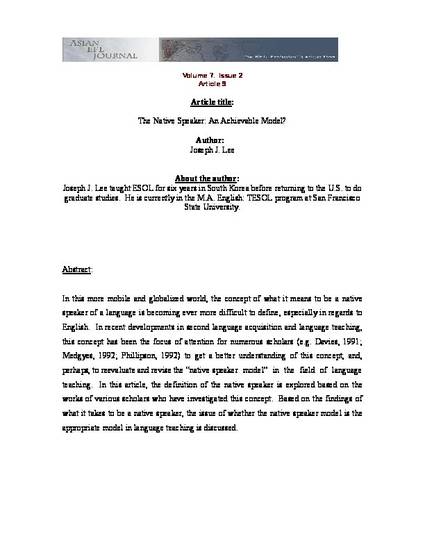 Article
The Native Speaker: An Achievable Model?
Asian EFL Journal (2005)
Abstract
In this more mobile and globalized world, the concept of what it means to be a native speaker of a language is becoming ever more difficult to define, especially in regards to English. In recent developments in second language acquisition and language teaching, this concept has been the focus of attention for numerous scholars (e.g. Davies, 1991; Medgyes, 1992; Phillipson, 1992) to get a better understanding of this concept, and, perhaps, to reevaluate and revise the "native speaker model" in the field of language teaching. In this article, the definition of the native speaker is explored based on the works of various scholars who have investigated this concept. Based on the findings of what it takes to be a native speaker, the issue of whether the native speaker model is the appropriate model in language teaching is discussed.
Citation Information
Joseph J. Lee. "The Native Speaker: An Achievable Model?"
Asian EFL Journal
Vol. 7 Iss. 2 (2005)
Available at: http://works.bepress.com/josephjlee1/7/