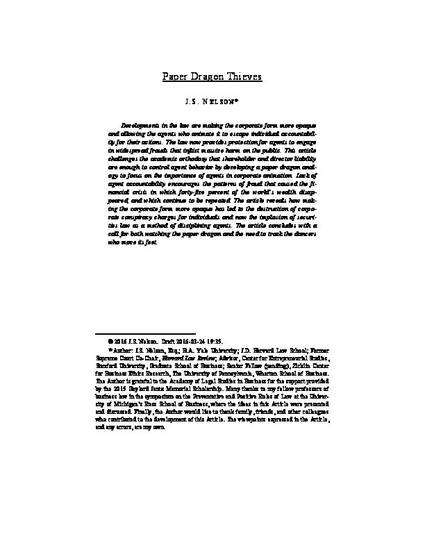 Article
Paper Dragon Thieves
The Georgetown Law Journal (2017)
Abstract
Developments in the law are making the corporate form more opaque and allowing the agents who animate it to escape individual accountability for their actions. The law now provides protection for agents to engage in widespread frauds that inflict massive harm on the public. This article challenges the academic orthodoxy that shareholder and director liability are enough to control agent behavior by developing a paper dragon analogy to focus on the importance of agents in corporate animation. Lack of agent accountability encourages the patterns of fraud that caused the financial crisis in which forty-five percent of the world's wealth disappeared, and which continue to be repeated. The article reveals how making the corporate form more opaque has led to the destruction of corporate conspiracy charges for individuals and now the implosion of securities law as a method of disciplining agents. The article concludes with a call for both watching the paper dragon and the need to track the dancers who move its feet.
Keywords
Paper Dragon,
challenge academic orthodoxy,
Citizens United,
Hobby Lobby,
Newman,
Litvak,
Flannery,
Harp,
executives,
gap in the literature,
agency law,
criminal law,
tort law,
corporate law,
equity,
public policy,
criminal conspiracy,
civil conspiracy,
corporate conspiracy,
Volkswagen,
Libor,
financial crisis,
DOJ,
SEC,
securities fraud,
securities crime,
intracorporate conspiracy,
wrongdoing,
corporate social responsibility,
law and economics,
shareholder liability,
limited liability,
Nomura,
RBS,
RMBS,
big short,
Takata,
general motors,
warped,
warping,
distorted,
distorting,
related doctrines,
piercing the corporate veil,
veil-piercing,
responsible corporate officer doctrine,
control person liability,
retroactive imposition of the corporate veil,
reverse piercing of the corporate veil,
reverse veil-piercing,
stanford graduate school of business,
stanford,
harvard,
wharton,
michigan,
university of california at berkeley,
haas school of business,
academy of legal studies in business,
university of texas,
university of florida,
university of pennsylvania,
wharton school of business,
zicklin center for business ethics research,
hurst research in legal studies and ethics seminar,
jentz fellowship,
national prize,
outstanding proceedings,
best paper,
paper dragon,
corporate animation,
corporate shell,
hardening,
shell-hardening,
data,
stacking shells,
multinational corporations,
multinationals,
corporate representative,
scapegoat,
vice president of going to jail,
willing blindness,
top executives,
scope of wrongdoing,
middle management,
backlash,
parade,
shell
Citation Information
J.S. Nelson. "Paper Dragon Thieves"
The Georgetown Law Journal
Vol. 105 (2017)
Available at: http://works.bepress.com/josephine_sandler_nelson/24/